Phaedra Parks Denies Calling Feds On Kandi Burruss For Keeping Apollo Nida's Motorcycles After Their 'RHOA' Feud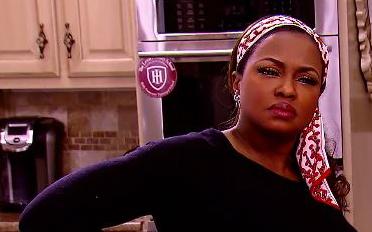 While enjoying a date day with her girl Porsha Williams at her home, Phaedra Parks received some shocking news about Kandi Burruss and her husband, Todd Tucker, during Sunday night's episode of The Real Housewives of Atlanta!
While discussing her plans for her coming Christmas party, Parks was informed by Williams that Burruss and Tucker received a visit from the Feds regarding the motorcycles they were holding for Apollo Nida during his imprisonment.
Article continues below advertisement
"Okay, so I got a story sent to me the other day for Dish Nation. And I didn't know what to think about it," Williams said, revealing that the Feds went to the couple's home to seize Nida's two bikes they were holding for him!
"The feds went over to the house to get it. Can you believe that? It's like they knew something," Williams told Parks, sparking only a "hmmm" from Nida's estranged wife.
Williams added, "Can you imagine what it was like to have the Feds knock down your door?"
And she went on to add that along with Burruss and Tucker, Peter Thomas and Cynthia Bailey also had some of Nida's personal items.
But the conversation took a more interesting turn when she asked Parks if she felt that Burruss thought she called the Feds on her.
"I hope she not sitting there thinking that you called the feds on her," Williams said, to which Parks replied swiftly, "Child, bye!"
Parks did acknowledge that the incident had to be "scary" for Burruss, though she also questioned what Burruss "would think if I had Todd's stuff over here."
Article continues below advertisement
The conversation about the Feds visiting Burruss' home quickly spread among the RHOA ladies, with even Kenya Moore questioning if Parks called the government on her ex-bestie!
And during her confessional about Parks' Christmas party, Burruss admitted that she wasn't completely sure if Parks had a role in the Feds visiting her. And she even laughed with NeNe Leakes about the drama as they discussed the situation at Parks' event, with Burruss admitting that she would be keeping her "distance" with Parks until she could better understand her intentions.
Moore went on to directly question Parks about the situation with the Feds while at the party!
"I heard something about it. But you can't believe everything you hear," Parks said about Burruss' predicament. But once the girls told her that Bailey also received a visit from the Feds, Parks politely "excused" herself from the chat, leaving the girls' tossing a few side-eyes!
Elsewhere during the episode, Burruss and Tucker visited the grave plot of his late mother, Sharon Wells. Matt Jordan purchased his girlfriend, Moore, two puppies. And Bailey and Thomas continued to bond as they repaired their damaged marriage.