'Breaking Bad' Star Breaks Down Obamacare On 'SNL'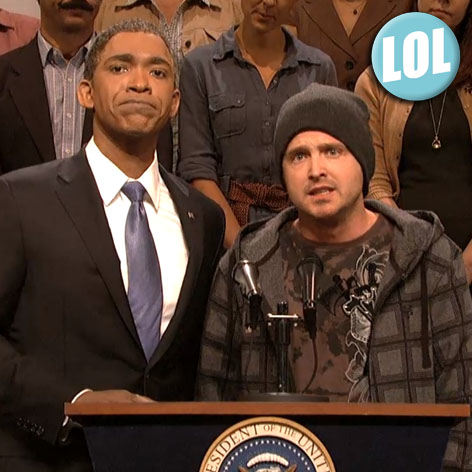 Saturday Night Live kicked off its new season by getting on the Breaking Bad bandwagon.
Bad's Aaron Paul made a surprise appearance, in character as Jesse Pinkman "from New Mexico," and helped President Barack Obama explain how the Affordable Care Act would have helped his good friend.
"I had this friend and he got sick. Like, cancer sick. But because there wasn't Obamacare, he couldn't afford treatments. So he was like, backed into a corner," Paul, as Pinkman said.
Article continues below advertisement
"And keep in mind - this man was a teacher with a family," interjected Obama, played perfectly, as always, by Jay Pharoah.
"So, he did what any of us would have done. He started cooking meth. And soon it wasn't just meth. It was murder. And not regular murder. Like-he blew half a guy's face off."
Pinkman then offered to tell everyone what happened to his friend.
Did he do it? You'll have to watch the clip here to find out!
The Breaking Bad series finale is Sunday night and fans are in a frenzy. There are viewing parties at bars and clubs all over the country and even screenings in theaters.