Nicki Minaj Threatens To Quit American Idol During Live Show!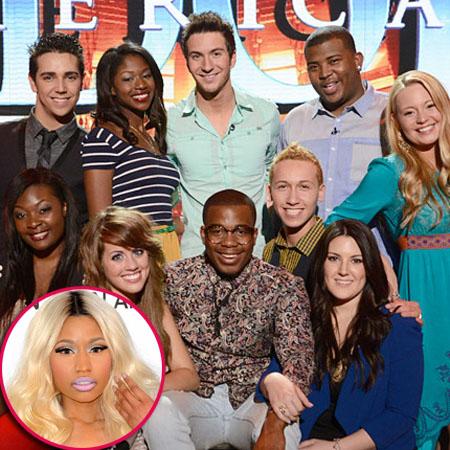 Nicki Minaj, enraged over her favorite contestant landing in the bottom two, threatened to quit American Idol on Thursday.
SPOILER: Whose Poor Showing Almost Caused Nicki To Quit The Show?
With the least viewer votes, St. Louis native Curtis Finch, Jr. landed in the bottom two with Devin Velez, causing the Super Bass singer to nearly walk off the Fox talent show. Nicki, clad in a sexy, loud neon outfit, temporarily stormed off the set when his name was announced as the singer with the least viewer votes, but Randy coaxed her back.
Article continues below advertisement
"I definitely think Curtis should not be in the bottom two," she said. "I mean, I love Devin, but I think that Curtis, if you look at every one of his performances -- I mean, come on, America, are you kidding me?
"Curtis, if you go home, I go home," she said, a night after she was late to the show.
Curtis tried to salvage his place on the show with a last ditch performance of R. Kelly's I Believe I Can Fly, but the judges were not unanimous in giving him the coveted save.