Nerd Power! 'Chuck' Star Zachary Levi Joins Angelina Jolie As A Tomb Raider Character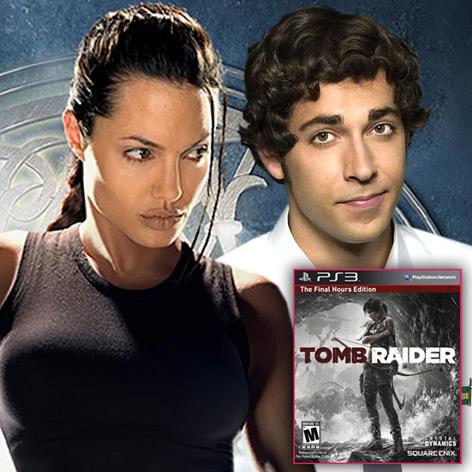 Angelina Jolie and Chuck star Zachary Levi now have something lucrative in common: they both are featured in the multi-million dollar Tomb Raider franchise.
Levi, star of the cult hit NBC show, recently announced he will be a playable character in the new Tomb Raider game, which will be released March 5.
His journey into the game was non traditional. He was approached to host the behind-the-scenes video series, The Final Hours of Tomb Raider, and saw an opportunity.'
Article continues below advertisement
"When I was approached to host The Final Hours of Tomb Raider, the biggest 'ask' that I had was 'I want to be in the game'… so guess what? Boom, boom, boom! I'm a playable character in the multiplayer Tomb Raider, how sick is that?" Levi said in the latest video, not holding back on his excitement.
The Final Hours video series takes Levi and viewers through the final days of the game's creation, treating everyone to a behind-the-scenes look at Tomb Raider.
The new game will be the first in the series to feature a multiplayer component. Levi's character will wear his iconic NERD t-shirt.
Think he's stoked?
"I can play with myself… virtually!" Levi joked in the video series, so yes, he's stoked!
The newest installment of the Tomb Raider franchise features British actress Camilla Luddington in the iconic Lara Croft role. The previous iteration of the game, Tomb Raider: Underworld, received positive reviews and sold approximately 2.6 million copies.
The series also is noted for spawning two Hollywood films, starring Angelina Jolie and producing more than $400 million in box office revenue.
youtube