NeNe Leakes Doesn't Want Kenya Moore As A Pageant Judge: 'I Don't Give A Damn If She Was Miss Boo Boo!'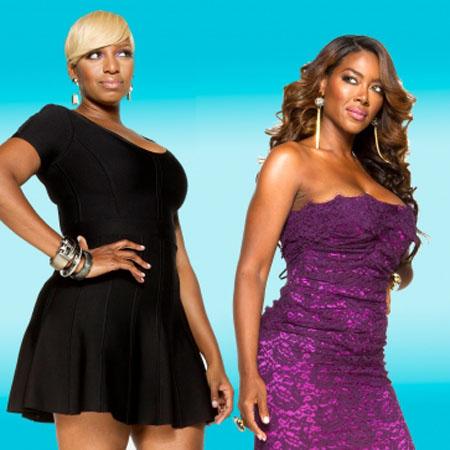 Cynthia Bailey took center stage on Sunday's edition of The Real Housewives of Atlanta, as the model was admittedly "a nervous hot mess" in organizing a beauty pageant, Miss Renaissance, for which she received hysterical advice from her co-star, the great NeNe Leakes.
Cynthia asked NeNe -- back in town after returning from Los Angeles where she tapes NBC's The New Normal -- if she felt she should involve co-star Kenya Moore in the event as a judge, after the two had an acrimonious time working together on a previous project.
Article continues below advertisement
"Are you going to let her be a judge?" NeNe said, rolling her eyes.
"She was Miss USA, it's a pageant," Cynthia explained, but NeNe wasn't having any of it.
"I don't give a damn if she was Miss Boo Boo! The whole point is, she act a damn fool in the magazine thing," the breakout housewife said. "You know, a fool is a fool."
"This is your first time doing this, you don't need somewhat coming in trying to wreck your sh*t."
Cynthia, who canned Porsha Stewart from the festivities, went against NeNe's advice and included Kenya as part of the event.
Eventually, the pageants went off with a few minor gaffes: fashion model Boris Kodjoe co-hosted the event, though wasn't apparently told of a formal dress code; scripts got mixed up, and the wrong names were announced; and there was a long delay in announcing the winners.
Still, Kenya came through fine as a judge, and the event went off better than not.
Watch the video on RadarOnline.com
The Real Housewives of Atlanta airs Sundays on Bravo at 8/7c.