Neil Diamond Comforts Fans Singing 'Sweet Caroline' At The Boston Red Sox Game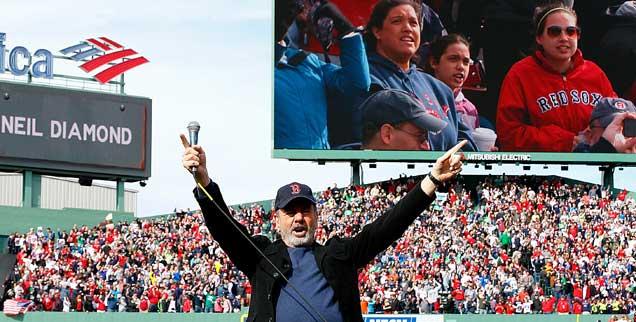 Neil Diamond thrilled Boston Red Sox fans today by singing his beloved Boston-themed song Sweet Caroline at the baseball game at Fenway Park.
Diamond provided comfort to the Boston faithful after the rough week following the terror attacks by alleged bombers Tamerlan and Dzhokhar Tsarnaev. Before performing his signature hit on the baseball field before the Red Sox batted against the Kansas City Royals in the eighth inning, the pop star shouted, "Thank you, Boston! What an honor it is for me to be here today. I bring love from the whole country!"
Article continues below advertisement
Wearing a Red Sox baseball cap, jeans, a blue tee shirt and jeans, and almost unrecognizable in a beard and mustache, Diamond gestured to the crowd to sing along. The fans waved American flags and "Boston Strong" signs and chanted the Sweet Caroline "oh, oh, oh!" verse back at Diamond during the song.
"I need to hear everybody singing," Diamond exhorted the fans, who have used the song as a Boston Red Sox theme for years. Diamond wrote the song in tribute to former first daughter and Boston icon Caroline Kennedy after the assassination of her father, President John F. Kennedy. Since the bombings, many other pro sports teams have played Sweet Caroline at games to show solidarity with the city.
After the performance, Red Sox fans cheered like they never have before and an emotional Diamond applauded them right back. A commentator on MLB.com noted it was "about as loud as I've ever heard the crowd here."
And fittingly, the Red Sox won the game against the Royals, 4-3, after a home run by Daniel Nava in the eighth, right after Diamond's inspiring performance!