NASCAR Slap Up! Max Papis Claims Dislocated Jaw After Competing Driver's Girlfriend Slugs Him After Crash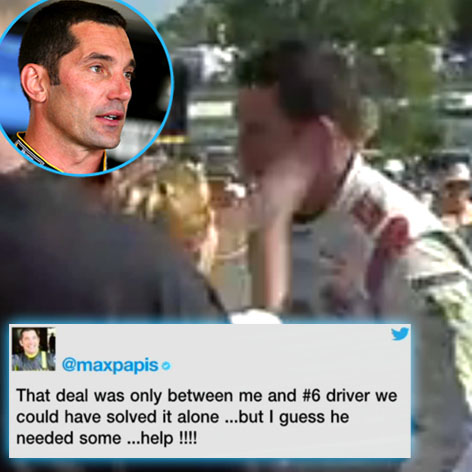 Max Papis is claiming a dislocated jaw after a woman ran out onto the track and slugged him following the Camping World Truck Series race in Bowmanville, Ontario Sunday.
"This crazy lady comes shouting at me, and I had no idea, didn't even understand her, she just started shouting," Papis told ESPN.com after the incident at Canadian Tire Motorsport Park. "And all the sudden, she took a full hand -- and she slapped me so hard. I'm not kidding. My jaw got dislocated and my left ear is still ringing, big time."
Article continues below advertisement
"What do you do? You don't hit a lady," Papis added in explaining why he didn't retaliate. "I was in disbelief. Complete disbelief. If she would've closed her hand it would have been a bad punch, because she hit me so freaking hard."
Papis didn't identify the woman by name but did tell ESPN that she was fellow driver Mike Skeen's girlfriend.
Papis and Skeen had been battling for second place when they crashed.
One of Skeen's crew members then ran out to the track, reached into Papis' vehicle and tried to pull him out of the truck! A Papis crew member separated the pair.
But after Papis got out of his truck, all bets were off when the upset woman ran out and took over.
Papis also told ESPN he's asked NASCAR take action against Skeen's girlfriend.
"It needs to stay between the drivers," Papis said. "I think NASCAR should do something about it. I don't even like that Skeen's team member pulled me out of the truck, much less this lady slapping me. Drivers can have arguments with each other -- but it shouldn't affect what other people do."
In reporting on the altercation, Fox Sports has identified Skeen's girlfriend as Kelly Heaphy.
You can watch the slap heard 'round the race track HERE.