Movie Stuntmen Rescue Woman From Suicide Leap, See The Amazing Video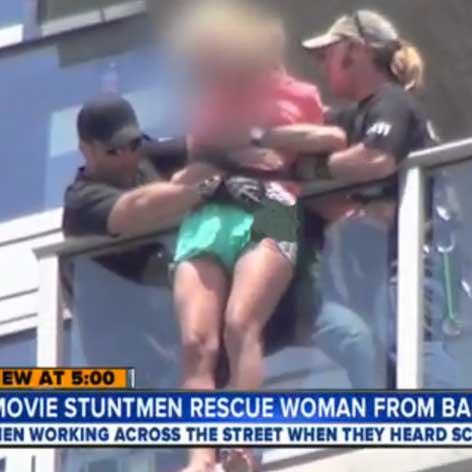 Several stuntmen saved a woman from leaping to her death in San Diego on Friday, and it was all caught on video.
The men, from a company called Stunts 911, were in San Diego for the Comic-Con convention and were putting up scaffolding for their appearance that night at the Kiss-Ass 2 premier party, when they heard shouts about a woman about to jump from a nearby building.
Gregg Sergeant and his crew raced into the building and got a security guard to take them up to the 14th floor, where a hysterical woman was hanging from the outside of an apartment balcony.
Article continues below advertisement
"We burst into the room and she was on the patio. She'd even closed the door so we couldn't get to her," Sergeant told ABC10, who aired the exclusive video.
Sergeant quietly went behind up behind the suicidal woman and quickly locked her in a bear hug. Scott Schecter and Amos Carver then rushed in and helped secured her.
Carver was already wearing scaffolding rigging. "It was just real easy to grab something off and throw it around her and yank her entirely back in," he told the ABC station.
Police, who arrived seconds later, said the woman was intoxicated and upset over a bad break-up.
The stuntmen were applauded by bystanders on the street but don't want to be considered heroes.
"I was just so thankful we got there when we got there," said Sergeant.
You can watch the ABC 10 video HERE: