Modern Family Stars Stuck In Elevator For An Hour At KC Hotel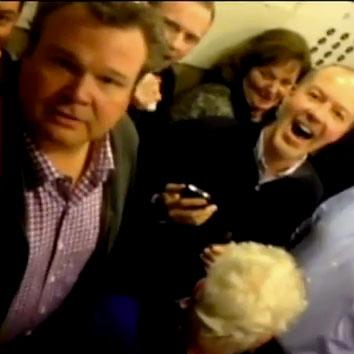 Modern Family stars Julie Bowen, Jesse Tyler Ferguson and Eric Stonestreet were stuck in an elevator for more than an hour at the Sheraton Hotel in Kansas City, where they appeared at a fundraiser for the city's Boys & Girls Clubs.
Twelve other people were in the elevator during the Friday incident, during which the stars tweeted about to pass the time until it was repaired, the Kansas City Star reported. At one point, Ferguson tweeted a clip of everybody chanting, "Get us out!"
Article continues below advertisement
"I honestly handled being stuck in an elevator for 50min better than I thought," Stonestreet wrote afterwards, adding, "All @jessetyler did was pass wind."
Watch the video on RadarOnline.com
Using ladders, the city's Fire Department freed the 15 occupants at about 10 p.m. local time, and the stars thanked them afterwards at the event.
"Finally made it out of the stuck elevator at the one hour mark," Ferguson tweeted. "At least the firemen in K.C. are cute."