She Said What? Watch Miss Utah's Incoherent Answer During Miss USA Q&A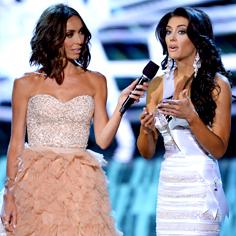 Beauty pageants are famous for questions that stump the contestants trying to win the crown and Miss Utah's incoherent response to a question about income inequality was part of the fun on Donald Trump's Sunday night Miss USA contest and RadarOnline.com has the video of her rambling answer.
Marissa Powell, 21, a stunning brunette was asked a question by celebrity judge NeNe Leakes that she stumbled over and was unable to articulate her response.
Article continues below advertisement
"A recent report shows that in 40 percent of American families with children, women are the primary earners, yet they continue to earn less than men. What does it say about society?" the Real Housewives of Atlanta star posed to the crown hopeful.
"I think we can relate this back to education, and how we are continuing to try to strive … to …" Miss Utah stammered and then had a painfully long pause.
"Figure out how to create jobs right now. That is the biggest problem right now."
Giuliana Rancic was standing by her side looking shocked as she continued her nonsensical answer.
"I think, especially the men are … um … seen as the leaders of this, and so we need to see how to … create education better. So that we can solve this problem. Thank you."
Miss Connecticut Erin Brady won the coveted crown and Miss Utah Marissa Powell came in third.
radar_embed service=youtube src="https://www.youtube.com/embed/TlgqWeuhJj4?feature=player_embedded" width="640" height="360"