Miley Cyrus Performs With Band Of Little People!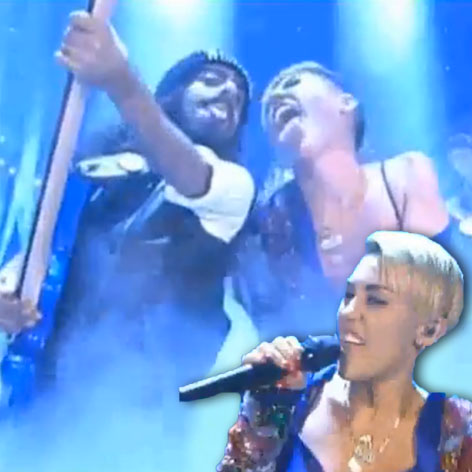 Okay, so you thought Miley Cyrus singing in front of dancing Teddy bears on the VMAs was weird -- and we won't even get into the whole Robin Thicke twerking thing -- but performing with a band of little people?
That's what the singer did Saturday night on a live German game show called Schlag Den Raab.
In cut-off denim shorts, thigh-high hooker boots and with her tongue often hanging out, Cyrus sang We Can't Stop.
Article continues below advertisement
She got down on one knee and patted the butt of a blonde dancer of particularly short stature as the girl twerked for Miley's amusement. Then the tongue came out when she bent over to sing alongside the drummer.
They weren't introduced by the show's host so it's unclear if Miley's background performers are a formal group who benefited from great exposure on the hugely popular game show, or were just pulled together as some sort of bizarre Cyrus sideshow.
You can watch the performance here, and let us know if this is something you'd want to see Miley do again in the U.S.? Tell us in comments.
youtube=https://www.youtube.com/watch?v=Lv8dbV_OQf4&w=420&h=315