Menopause, Fake Boobs And Botox! Middle Aged Moms Turned Beauty Queens Compete In Crown Chasers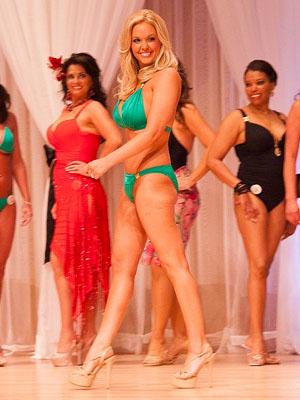 They definitely aren't your average beauty queens!
On TLC's upcoming series Crown Chasers, five women compete for the crown of the Golden Queens Pageant, where they struggle with the likes of menopause and juggling their family duties while attempting to win a beauty pageant – and RadarOnline.com has the details as well as the sneak peek of the outrageous new show.
It's a look inside the "Mrs. Pageants" and the show features five women, ages 30 to 52.
Article continues below advertisement
In a clip from the show, which premieres on Wednesday, July 10, the five "frenemies" compete in bikinis, starve themselves, wrap their legs in saran wrap, work out at the gym and adjust their fake breasts in hopes of becoming queen of the middle aged sect.
"I dream about the moment that crown is on my head," one of the contestants, Jonella, who is in tears, reveals. "I know all the times of not eating, and all the cardio, will be so worth it."
Jocelyn, who boasts "fake boobs and teeth" struggles with the symptoms of menopause and has several uncontrollable outbursts that she blames on her hormones.
"Just keep calm, you can not let hormones get to you, I am not my menopause," she reassures herself. "I am feeling and thinking that I am the best I have ever been. I am stronger, I am smarter, I am wiser and I want my kids to see that their mom is a winner."
"Preparing for a pageant is really insane. Because I have trouble with self-image, I have to actually talk to myself in the mirror," she explains.
For more on Crown Chasers, click here.