New Details About The Third Missing Woman Michelle Knight: She Suffered Facial Bone Damage & Hearing Loss, Had Son Before She Vanished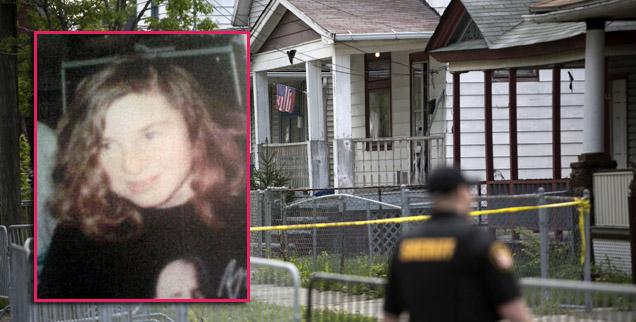 Of the three women rescued from the house of horrors in Cleveland, Ohio, most of the attention so far has gone to Amanda Berry and Gina DeJesus, but now we're learning more about the third captive – Michelle Knight, whose photo has now been made public, and whose mother is now speaking out about her daughter's horrific ordeal.
Unlike Amanda and Gina – who were released from the hospital Tuesday – Michelle, 30, remained in the hospital as of early Wednesday. Sources told Fox 8 Cleveland that Michelle appears to have facial bone damage and hearing loss from the savage treatment at the hands of the three Castro brothers.
Article continues below advertisement
Michelle's mother, Barbara Knight, 50, left her home in Naples, Florida, on Tuesday to head to Cleveland to see Michelle, but the mother and daughter have not yet been reunited, she told the TODAY show on Wednesday.
Barbara told TODAY's Savannah Guthrie she never gave up hope she'd see Michelle again and looks forward to introducing Michelle to the sister she has never met, 10-year-old Katie, who was born after her half-sister disappeared in August 2002.
At the time of Michelle's disappearance, she was 20-years-old and at odds with her mother.
Michelle was in the midst of a custody battle over her young son at the time. There was speculation that she ran away from home.
"Certain people said she didn't want nothing to do with me but still in my heart I thought no, because I knew my Michelle," Barbara told TODAY. "They figured she just left because of the baby and everything."
Article continues below advertisement
Visit NBCNews.com for breaking news, world news, and news about the economy
Barbara also said she filed a missing persons report with authorities after Michelle vanished.
"They told me if she breaks the law or they spot her, they'll let me know but nothing happened."
She said her sons have been reunited with Michelle, but she has not yet seen her.
"I don't want her to think that I forgot about her," Barbara said. "Hopefully whatever happened between us, if something did - I hope it heals because I really want to take her back to Florida with me."
Barbara added that at this point, she knows little about what had happened to her daughter.
SHOCKING PHOTOS: Elizabeth Smart Evidence In Kidnapping Case
"There was a detective who called me, but he just said it was my daughter," she said, adding that she missed his call and that the detective had left work when she called back. "I didn't get a hold of anyone."
Watch the video on RadarOnline.com
Barbara now lives in Naples, Florida with her second husband Tom Hudson and members of his family.