Watch: Meteorologist Gets Scare From Giant Spider Live On Air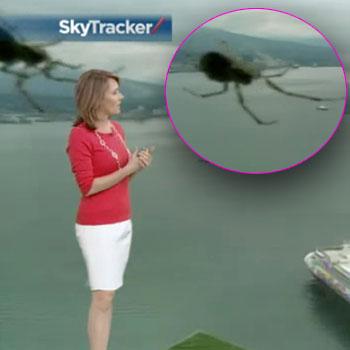 This is one forecast meteorologist Kristi Gordon didn't see coming.
The Canadian weather presenter jumped in fright as she noticed a giant spider crawl across the screen. Of course, it was nowhere near her in real life -- the creepy crawly darted across an outside broadcast weather cam -- but the shock was clear.
Gordon shrieked, "Oh my gosh, that was creepy!"
Her laughing Global BC colleagues, off air, were quick to reassure Gordon that the creepy-crawly was not in studio!
Article continues below advertisement
"Of course it had to be right on my head!" Gordon added. "I hate it, I can't stand it."
The video has gone viral around the world, racking up more than two million views on YouTube.
Gordon took to Twitter soon after the on-air incident, describing it as been "embarrassing" to one fan who told her the encounter with the spider provided the "best noon weather forecast ever!"
radar_embed service=youtube src="https://www.youtube.com/embed/Nq1M0MEB-W4?feature=player_detailpage" width="640" height="360"