Iconic Poet Maya Angelou Dies At 86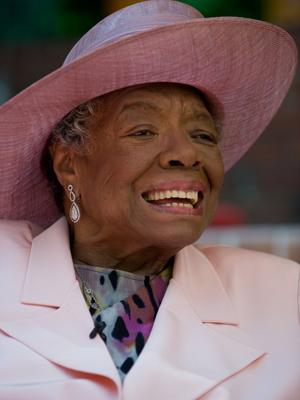 American poet Maya Angelou has died at 86, her home school of Wake Forest University said Wednesday.
Angelou's most famous work is the best-selling I Know Why the Caged Bird Sings, her 1969 autobiography detailing her upbringing during the tumultuous years prior to America's civil rights movement. With her high-profile literature, she was able to work alongside historical figures including Malcolm X, Nelson Mandela and the Rev. Martin Luther King, Jr.
Article continues below advertisement
Angelou, a professor of American Studies for more than 30 years at Wake Forest, famously read a poem titled "On the Pulse of Morning," at President Bill Clinton's 1993 inauguration.
Watch the video on RadarOnline.com (Courtesy: William J. Clinton Presidential Library)
In her final tweet last week, Angelou, who had a close friendship with Oprah Winfrey, wrote, "Listen to yourself and in that quietude you might hear the voice of God."
"RIP Maya Angelou" was the top trending topic on twitter, with celebs such as LeAnn Rimes, Khloé Kardashian, and her mother Kris Jenner mourning the late poet.
"The world has lost a truly remarkable activist, educator and an inspiration to all," Jenner wrote. "Rest In Peace."