Dallas Pranksters' Club: Mock Matthew McConaughey Fools TV Broadcaster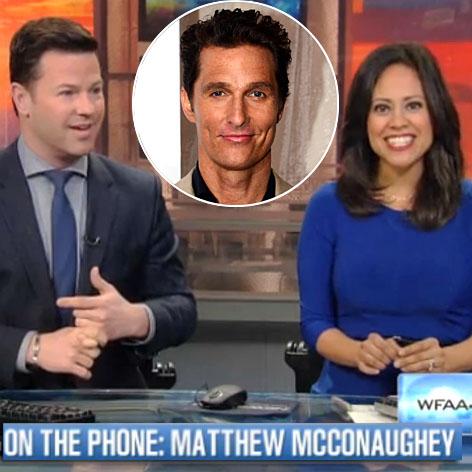 We're still a good month away from April Fools' Day, but that didn't stop one Texas newscast from pulling a few legs with a mock interview of the local boy done good.
The prank was perpetrated on Dallas-Ft. Worth station WFAA's News 8 Daybreak show, where anchor Ron Corning, in on the joke, hyped colleague Cynthia Izaguirre onto a famous call-in guest, and was it a doozy: A-list Texan Matthew McConaughey.
Article continues below advertisement
Without a blip, the handsome"actor," talking in his trademark Texas drawl, began exchanging the typical niceties and salutations with the broadcasters regarding his Oscar nomination for his critically-acclaimed Dallas Buyers Club film.
'
When Izaguirre began stiffing out that it just might not be Matthew, the impersonator masterfully sidestepped her doubts and hit on her.
"What's your name again? Say your name again, say it real slow," the impersonator told the broadcaster, who responded, "Izaguirre -- and we know that you like Latin women so we know it wouldn't be hard for you to remember that last name!"
Izaguirre told him she thought he was sure to win the Academy Award for his role in the film. Finally, when straight faces could be held no longer, Corning exposed the real voice behind the fake actor: local radio personality Ken Buckner.
For what it's worth, Izaguirre's prediction seems to be in line with what experts are thinking, as a number of online oddsmakers had McConaughey as an overwhelming favorite to take the honors for best actor Sunday. Also heavily favored is co-star in the AIDS-related drama, Jared Leto.