Runaway Groom? Keith 'Doesn't Know' If He Could Wed Iris On 'Married At First Sight'
Keith got his parents' blessing to marry a stranger on Married at First Sight, but now he's the reason he may not make it down the aisle! In an exclusive sneak peek of this week's episode, Keith reconsidered his decision to tie the knot.
"The anxiety has gone from an 8 to an 11," he said. "I never thought this day would come. My future wife is at most 100 years away. My mind is everywhere."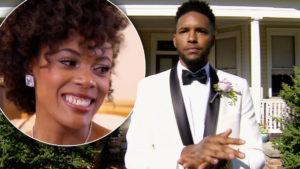 He then added that he has "mixed emotions" even though he got his parents' blessing.
MORE ON:
Married At First Sight
Article continues below advertisement
"Truthfully, I don't know if I could go through getting married at first sight."
On last week's episode, Keith's parents struggled with his decision to marry a stranger.
"I just lost my appetite," Keith's mom said, as Keith responded, "Experts did their homework and due diligence to find someone to match so I trust them."
His mother explained how she is "confused" in her confessional.
"I take marriage very seriously, having been married for 30 years," she said. "For him to be getting married in 10 days to someone he has not laid eyes on is unnerving for me."
She then told him, "This is a risk."
Keith continued in his confessional, "I never want to let my parents down. They are traditional in the way they view relationships. I hope I get their blessing."
Married at First Sight airs Wednesdays at 8:30/7:30c on Lifetime.