Nicki Minaj Blows Up At Mariah Carey, Screams 'Maybe I Should Get Off The F**king Panel!'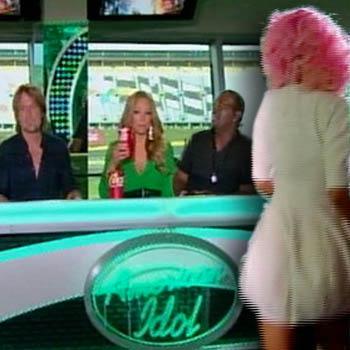 The tension between Nicki Minaj and Mariah Carey escalated to a fever pitch on Wednesday night's edition of American Idol, resulting in the Super Bass singer angrily storming off the set in an 'F-bomb' tirade after a seemingly-minor disagreement with the other judges.
Nicki and Mariah were already off on the wrong foot during the show's first week, auditioning hopefuls in New York and Chicago alongside fellow judges Keith Urban and Randy Jackson; the volcano finally blew as the show headed into Charlotte, North Carolina.
Article continues below advertisement
Summer Cunningham's debut turned out to be the incident that would ignite the Pink Friday singer's tantrum: The 20-year-old Georgia native, who performed Bill Withers' Lean on Me in her audition, annoyed Keith and Mariah after offhandedly remarking she's done "the country thing" in her musical endeavors.
Keith told her, "I always get thrown when people say they have 'done the country thing' … it's like saying you 'did the brain surgeon thing' -- either you are a brain surgeon or you're not."
Mariah and Randy piled on in agreement with Keith, causing Nicki to leap to Summer's defense.
"Why are we picking her apart because of a country comment?" Nicki said. "I feel like we're going into, 'Are you country, are you country, do you like country?' … You guys make comments about everybody in popular music all day … not you Keith … Randy and Mariah."
"I'm sorry, it's just that that's what I do, Nicki," Mariah said. "So when I'm making comments, I'm trying to help her, as opposed to just talk about her outfit."
Article continues below advertisement
PHOTO: Nicki Minaj Has Onstage Wardrobe Malfunction
"Let me continue to speak," Nicki said, to which Mariah responded, "Of course, you always do. Go ahead."
"All we're actually doing is just scaring her into lying," Nicki said. "Like, she said what she said, she has every right to say that and feel that."
Randy, referring to his impressive music industry career, said, "I'm just trying to help you a little bit … 30 years … insight."
A defiant Nicki replied, "Oh, you're right. I'm sorry I can't help her. Maybe I should just get off the f**king panel! Let me get off the panel" tossing her seat behind her.
Mariah, feeling she'd been beaten to the punch, chimed in, "That was my move … I was gonna do that the next time she bagged on me."
Off-camera, Nicki was still shouting: "Shut the f**k up -- finish the show -- I'm done!" the eccentric singer said.
Article continues below advertisement
And that was the end of day one. After the segment, the show aired news recaps of the Nicki's meltdown; the part that was not broadcast, for obvious reasons, was Nicki's full and profane meltdown aimed at Mariah, in which she said "I'm not f**king putting up with her highness over there -- figure it the f**k out, figure it out!"
Watch the video on RadarOnline.com
We'll see if things loosen up when American Idol's 12th season hits Baton Rouge, La. continues Thursday on Fox at 8/7c.