Man Covered In Jell-O Arrested For Having Sex With A Cow -- While His Pal Videotaped It!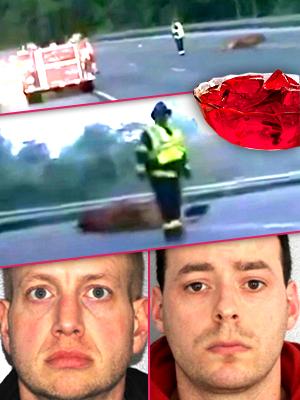 Two men ended up in a New York jail after being arrested for an act so bizarre, it almost doesn't seem real.
Reid Fontaine, 31, and Michael Jones, 33, were arrested and charged with sexual misconduct for allegedly having sex with a cow in Hermiker, New York, covered in Jell-O while the other one videotaped it.
According to WTNH-TV News 8 in Conn., a farmer became worried when his cows weren't producing milk and set up hidden cameras to find out why — and that's when the two men were literally caught in the act.
Article continues below advertisement
Jones was seen filming while Fontaine — a Farmington school system computer tech — performed a sexual act on the farm animal.
"I couldn't believe it! I just… what! No never and then I was like, wow, it's bizarre,"Gerilynne Carnelli told the news station.
Traumatized, the cow reportedly ran off and was hit by three cars, leaving it dead in the middle of the road.
The superintendent at Farmington says Fontaine was employed at the school district for about six months and his background check came up clean, with no previous criminal record.
WTNH-TV News 8 arrived at the scene of the incident as it was happening, stating, "Now when we arrived, one of the men was actively having sex with the cow. His friend who was videotaping the act took off as soon as he seen us arrive.
"Now we can't show you that video because the man was naked and covered in Jell-O, however we can show you the video of the aftermath."
Authorities arrived after the farmer discovered the hidden video and reported it.
Fontaine has been released and has an order to appear in court, and resigned on Sunday.