Victory For Kandi Burruss? Mama Joyce Does An About Face, Tells Her, 'If Todd Makes You Happy, I'm Happy'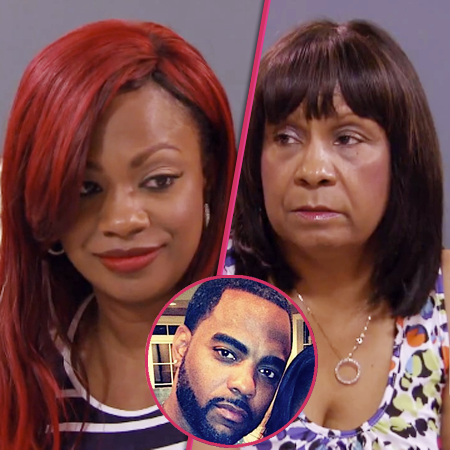 Kandi Burruss' mother, "Mama Joyce" suddenly decided to lay down her arms on Sunday night's The Real Housewives of Atlanta.
The woman who vehemently opposed Kandi's planned wedding to fiance Todd Tucker -- and caused all hell to break loose at a bridal shop -- changed her tune after a heart-to-heart talk with her daughter.
Kandi expressed disappointment about Joyce's negativity towards her marrying Todd and then her mother sighed, "I'm through with you."
Article continues below advertisement
But it wasn't what Kandi (or viewers) thought as Joyce continued, "I have decided to wash my hands of your relationship.
"I've decided to stay completely out of it. If Todd make you happy, I'm happy. Whatever happens, happens," Joyce told her daughter.
But Kandi's expression showed she was more than skeptical of Mama Joyce's promise!
And in another shocker, viewers learned that Joyce has some marriage secrets of her own.
"By the time you was my age, you were married three times," Kandi, 37, reminded her mother.
Also during their chat, Joyce said she felt like Kandi wasn't on her side and supported her longtime friend and personal assistant Carmon instead.
"That was not her place to butt in," Joyce said of her bridal boutique fracas with Carmon.
"I don't care if I was wrong, I'm your mother."
But Kandi defended Carmon, whom Joyce has bizarrely accused of having an affair with Todd.
Article continues below advertisement
"She been my friend for 25 years. She has my back 'til the end," Kandi asserted.
Joyce growled, "She best stay away from me."
The women appeared to achieve a truce with Joyce claiming she'd butt out of her daughter's engagement.
But will it last?
As RadarOnline.com has previously reported, before the detente with her daughter, Joyce visited Phaedra Parks and blamed her for introducing Kandi and Todd.
"I could choke you right now," Joyce said.
"Todd makes good money," Phaedra insisted.
But Joyce, who has charged Todd with being an "opportunist" said that since he had been seeing Kandi, Todd hadn't been raking it in.
"I've been getting a whole lot of smoke," Joyce said. "Where there's smoke, there's fire."
What's more, she told Phaedra she was concerned because Todd had refused to sign a pre-nuptial agreement.
All the attorney could do was try to smooth things over.
Article continues below advertisement
"She wants you so bad to be happy for her," Phaedra told Joyce about the impending nuptials.
Meanwhile, Kandi showed up at Cynthia Bailey's home and confided in her about the situation between Todd and Mama Joyce.
"It was like the old lady gang," Kandi said of Mama Joyce and her two aunts at the bridal shop criticizing her planned wedding to Todd.
"It bothers me she doesn't see that it's hurtful," Kandi sobbed. "She hits below the belt."
"You have to sit down with your mom and fight for this," Cynthia advised.
Which Kandi did!
Also on Sunday's episode, Porsha Stewart shopped for some pricey high heeled shoes.
"When I was married, Kordell was taking care of me," she said of her football player ex.
She looked at $7,000 gladiator sandals -- but then bought a $3,500 pair.
For Porsha, that was known as "budgeting."
And as RadarOnline.com has previously previewed, Sunday's episode also involved NeNe Leakes planning the housewives' bonding trip to Savannah-- but going apoplectic when most of the gals showed up late.
Article continues below advertisement
Later, Kenya Moore, who was on time, took control of the Tardy to the Party bus to Savannah.
"Listen up, ladies! I don't know what everybody's problem is; we were told to be here at 10:30. Nobody here is bigger or better than anybody else and I do not like to wait on other b****hes," Kenya said. "That's not right!
"I don't appreciate having to wait on anybody," she said.
Watch the video on RadarOnline.com
As RadarOnline.com has reported, Kandi screamed, "Don't nobody give a f*** about what you're saying. Sit your a** down!"
In a confessional, Phaedra rolled her eyes about Kenya and said NeNe shouldn't have "an escapee from Wh*re Island" speaking for her.
But as the episode ended, NeNe sighed to the cameras, "We can't even get started off on the right foot. Am I wrong for putting the trip together? I'm just trying to do something good but fault me for being an angel!"