Dog Retrieves Letters! Mailman's 'Best Part Of My Day' Video Goes Viral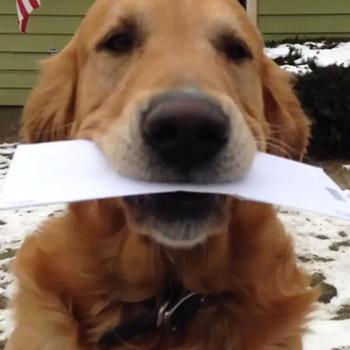 If you think a dog is a mailman's biggest nightmare, you'd be barking up the wrong tree.
This week, a mailman - who says every day, a golden retriever greets him to retrieve his owner's mail - uploaded an adorable video that he called the "best part of my day," and not surprisingly, it's quickly going viral.
In the video, the letter carrier pulls up outside a home and waits for the dog to fetch the mail. Before he even stops the truck, the pooch happily darts out of the home and jumps onto the fence, resting his front paws over the railing.
Article continues below advertisement
The dog then takes the letter in his mouth, as the mailman says, "Go give it to him. That's all I got…. Have a nice day!"
When the dog turns back to glance at the mailman, he says again, "Go give it to him."
And the dog does!
"Best part of my day," the postal worker concludes.
With the video, YouTube user bsgtrekfan88· wrote: "Well I stop for a delivery and look who I see! Delivery on this route has a special friend who ALWAYS does this ;)"
Watch the video on RadarOnline.com
The video has already gotten more than 200,000 views since it was posted on January 28.
youtube