Magic & Larry Together Again, Johnson & Bird Team Up With Kareem & Russell For TV Spot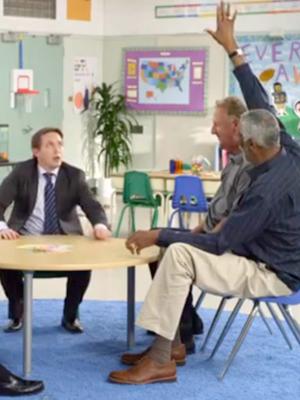 Magic Johnson and Larry Bird had one of the greatest rivalries in pro sports history, and now they're using their relationship to sell a mobile phone service!
The NBA giants are joined by Kareem Abdul-Jabbar and Bill Russell in a spot for AT&T 4G service that's a take-off on their hilarious "It's Not Complicated" ads starring precocious young kids.
Sitting around a kids size table, the four basketball legends are asked by Beck Bennett which is better on the basketball court, bigger or smaller.
Article continues below advertisement
The answer is obvious, and after they each answer "bigger," Bennett wants to get an Up Top palm slap to celebrate. The height-challenged comic actor didn't count on just how much bigger these guys are than he is.
The spot premieres Saturday just as the best in college hoop stars make their way to the March Madness finals.
You can watch it here first!
youtube