Vanderpump Rules Staff Plays Musical Beds, Lisa Calls Stassi A 'Ghetto B*tch'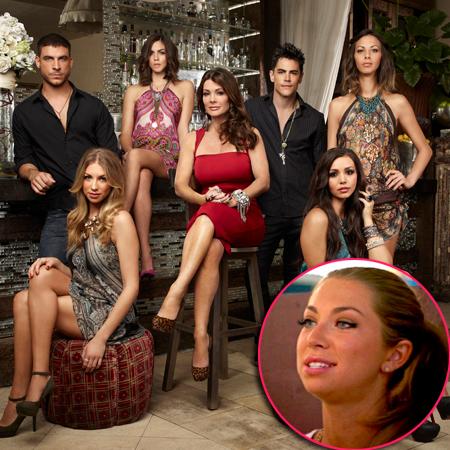 Vanderpump Rules served up it's share of drama Monday night when Lisa Vanderpump called a staff meeting that was more like couple's therapy, and RadarOnline.com has the juicy details.
It seems that every problem with the SUR staff stems from the fact that they're all sleeping together, and Lisa called everyone together to let them know that she's fed up with them playing musical beds.
"So just tell me this, how are you all supposed to work together?" Lisa asked. "It takes a lot to get me pissed off, and I'm really pissed off right now."
Article continues below advertisement
Lisa continued, "I'm passionate about this restaurant, and you guys can screw it up. That's what pisses me off."
When Lisa called out Stassi Schroeder for getting in a physical altercation with a co-worker while she was drunk, Stassi served up an explanation.
"I'm not a ghetto b*tch," she defended.
"Well that sounds like ghetto b*tch," Lisa snapped back.
"I'm not the type of girl to pull someone's hair," Stassi continued.
"Well me thinks maybe you are," Lisa contended.
"There Stassi is protesting her innocence," Lisa went on. "Well if it walks like a duck and talks like a duck, then clearly it's a bloody duck!"
Later, Scheana Marie had a show at The Roxy where she performed her new single What I Like and Stassi attended, mainly just to ridicule Scheana.
"I knew I should've been a hooker," Stassi joked, taking a stab at Scheana's skimpy outfit.
Article continues below advertisement
"I think Stassi wanted to come to The Roxy to make fun of Sheana," Kristen Doute said.
"I think she was hoping that Scheana would fail, but Scheana was awesome."
After the performance, Stassi had a bit of a meltdown, and bizarrely Scheana was the one there to comfort her.
"Don't cry, because we normally hate each other," Stassi cried.
Then back in the club, the girls made sure to take plenty of photos together --to prove they were getting along!
"We need to capture this moment," Scheana joked.
Tune in to Vanderpump Rules Mondays on Bravo following The Real Housewives of Beverly Hills.