Kim Richards Owns Up To Erratic Behavior, Lisa Vanderpump Reveals Dark Abusive Past On 'RHOBH' Reunion Part II!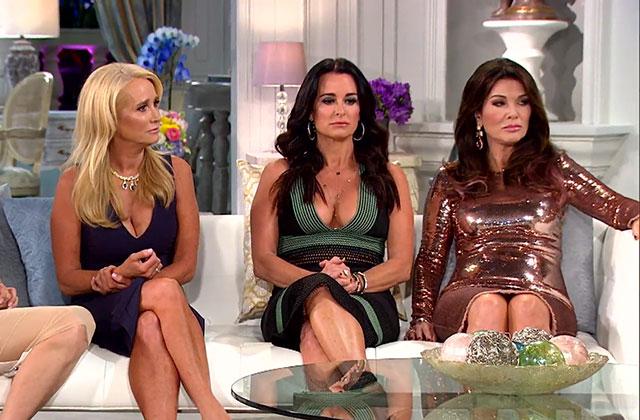 Two episodes out of the three-part reunion are over and not much was resolved. Most of the talking was done in circles with Lisa Vanderpump denying accusations thrown at her by Lisa Rinna, Yolanda Hadid, and Eileen Davidson.
First up was a continuation of the Munchausen's syndrome conversation, which forced Yolanda to walk off in last week's episode.
"You need to own the fact that you called me," Rinna yelled at LVP after waving phone records in her face. But the SUR owner would not bend in her position that she had nothing to do with the word and manipulating Rinna into saying it.
Article continues below advertisement
When Yolanda returned to the couch she expertly articulated to Vanderpump, "I think in certain times you manipulate things in a certain way that will look great for the show but you can't run over dead bodies to get a great show."
Yolanda Confronts 'RHOBH' Ladies Who Say She's Faking Lyme Disease
Rinna was still fuming and had to take a stroll off the set for a moment. "Just own it Lisa, f*cking own it!" she said.
Yolanda revealed Vanderpump has felt backlash in her personal life since doubting her. LVP's relationship with Yolanda's ex-husband and children's father, Mohamed Hadid, came to a halt when he got wind of her involvement in gossip and negative rumors.
The most exciting part of the reunion was the arrival of ex-housewife Kim Richards to the couch. She not only spoke her peace about her issues with sobriety but called out Rinna for "attacking" her character.
Article continues below advertisement
Kim revealed to host Andy Cohen, "I'm in recovery. I'm choosing to keep my recovery to myself." She insinuated the show did not help her stay on track. "When I took the first drink that was my low point," she said.
'Real Housewives Of Beverly Hills' Season 6: Secrets, Drama & Divas!
Her relationship with sister Kyle Richards appeared strained but a work-in-progress. "I think at times it has been hard to love me," Kim admitted. "I put my whole family through a lot." Kyle ensured her sister in an emotional moment, "Even if I didn't like you at times, I always loved you."
Eileen and Kathryn Edwards expressed their support towards Kim but she wanted to confront Rinna about language such as "dangerous" and "gross" to describe her relapse and erratic behavior. "I lost my sister to addiction. I know addiction. I wish you well. I want you to be happy," Rinna said to Kim.
Finally, Eileen had her moment to shine. She got the chance to get dismissed again by Vanderpump over the restaurateur's condescending attitude and prying questions about "the affair" she had with husband, Vince Van Patten. "I never felt your apology was sincere ever," insisted Eileen. "You dismissed me."
Article continues below advertisement
Inside The 'RHOBH' Return Of Kim Richards
LVP acted confused. "I don't trust you. I felt there was some intention there," continued Eileen.
Then, the major moment of the night happened when Vanderpump admitted to a past abusive relationship with a boyfriend when she was a teen! "Oh, my god — I was 19, and I was threatened and physically hurt," she explained. "The relationship was quite a long time."