Liberace's Ex-Lover Scott Thorson Reveals How The Pianist Ordered Him To Undergo Plastic Surgery — To Look Like Him!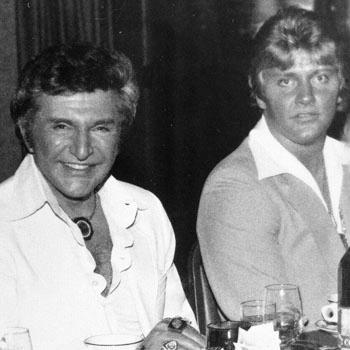 Scott Thorson was just 16 years old when he met Liberace, the man who would change his life forever. More than 50 years later, on the heels of the Matt Damon and Michael Douglas film based on their relationship, Thorson is talking about his whirlwind experience in a new video interview. Sex, plastic surgery and so much more -- nothing is off limits in the candid tell-all.
Thorson gets a little wistful talking to the National Enquirer as he remembers the first time he saw Liberace, whom he calls Lee, in 1974. "I was sitting with my foster parents at the time," he says, "Rose and Joe, and all of a sudden there was a commercial that came in, an advertisement from the Las Vegas Hilton and they said 'Liberace!' And he stands up. I said to Rose who is that and she says that's Liberace a very famous man a Las Vegas entertainer."
Article continues below advertisement
One week later, Thorson was at that very same show, meeting the flamboyant, but closeted, pianist backstage. "The next thing I know, he wanted us to come to the house," Thorson remembers. "We went to the house the following day and had lunch and this is where it all started."
Just one week later, Thorson was in his first homosexual relationship -- with Liberace. Yet even after they were together for years, Liberace desperately did not want the nature of their bond to become public.
"It could have ruined his career," Thorson says. "So he did everything to protect it and that's one of the reasons why he wanted to adopt me, to throw the press off… He wanted me to look more like him. He went into the plastic surgeons and I did the surgery to please him and that's the whole story on that matter."
Eventually though, affairs and Thorson's drug use would come between the couple, and the couple went through a very messy split in 1982. Thorson even unsuccessfully sued Liberace for $113 million in a palimony suit.
Article continues below advertisement
But decades later, as Liberace lay dying of AIDS, Thorson was the one he called to his deathbed.
"It shocked me," Thorson says, remembering his worst memory of the man. "He was 96 pounds. You know, he had his toupee off because even his wig couldn't fit him any more. His head, his body had shrunk. It was very devastating to me."
Now, Thorson is living at the Moonlite Bunny Ranch in Carson, Nevada, after the owner bailed him out of jail, where he was awaiting sentencing for burglary charges. And he prefers to remember the good times he and Liberace shared.
"He was a very kind man," Thorson says. "I must say. He was a very generous man and we had good times and bad times. But he was a very generous loving caring man".
For more on Hollywood sex parties, drugs and the rest of Thorson's scandalous stories, stay tuned for part two of the Enquirer's exclusive video interview, right here on RadarOnline.com — or pick up a copy of the magazine, on newsstands now.
radar_embed service=5min.com src="http://pshared.5min.com/Scripts/PlayerSeed.js?sid=1126&width=570&height=351&playList=517810221&sequential=1&shuffle=0"