LeSean McCoy's Ex Was Smacked In Face With Firearm During Brutal Beating, Lawyer Says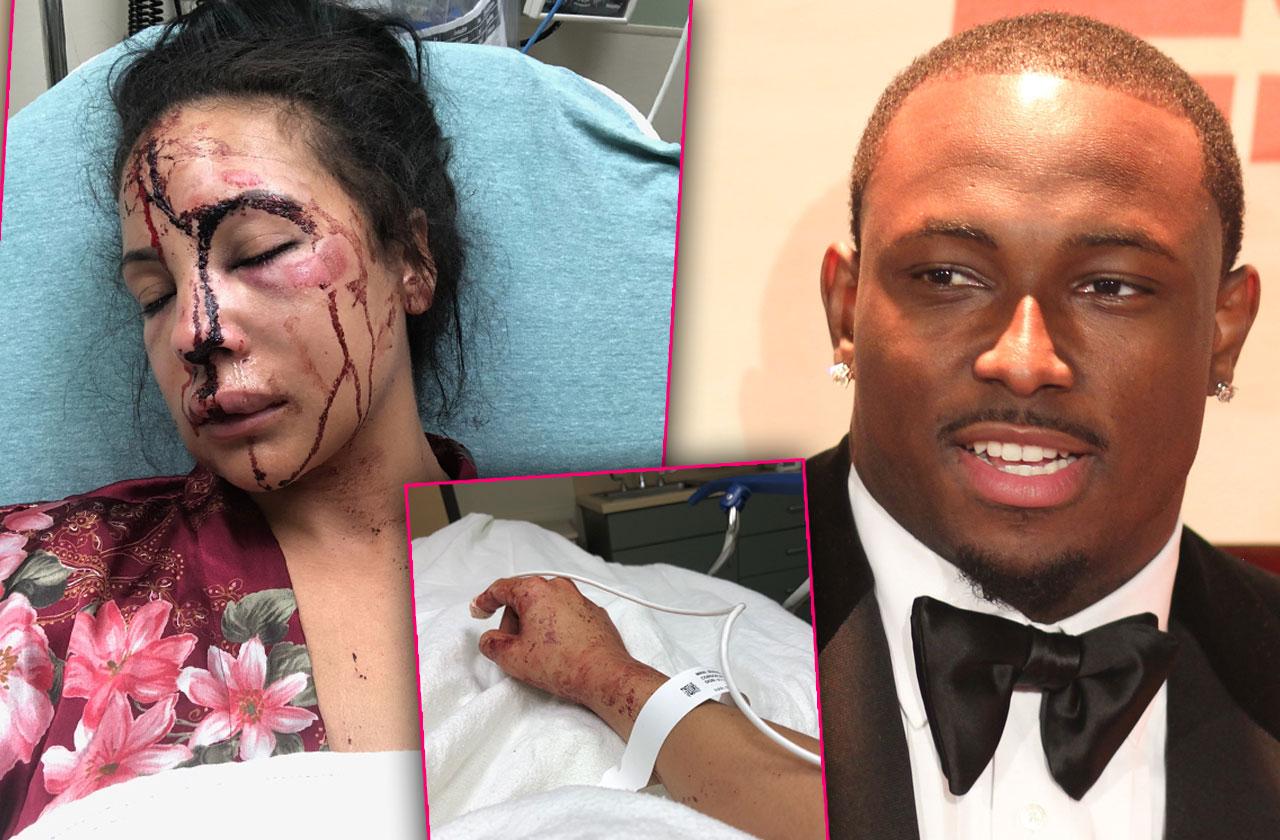 Buffalo Bills running back LeSean McCoy has been accused of domestic abuse after his ex-girlfriend was viciously beaten during a home robbery. RadarOnline.com can reveal exclusive details on Delicia Cordon's claims that the NFL pro warned her about the robbery before it occurred.
In a statement obtained by Radar, Cordon's attorneys claim Cordon and her children have resided with McCoy in his Georgia home since October 2016. At 3:00 a.m. on July 9 after returning home from a trip to London, a male assailant physically assaulted her in their home. There are no signs of forced entry.
Article continues below advertisement
"The assailant demanded specific items of jewelry that had been previously gifted to Ms. Cordon by Mr. McCoy, which Mr. McCoy had requested back on many occasions," the statement read. "In fact, after Ms. Cordon refused to return her jewelry gifts to Mr. McCoy, he would often suggest to Ms. Cordon that she could be robbed because the jewelry was expensive."
The assailant bruised Cordon's wrist in an effort to remove her bracelets. He also hit her in the face with a firearm multiple times while demanding specific items of jewelry and cash.
"Ms. Cordon sustained multiple injuries to her head, face and arms during this horrendous attack," the statement continued. Cordon's female cousin was also injured in the robbery.
Her legal team noted that Cordon is estranged from McCoy. He left Georgia on May 31, 2018 for Organized Team Activities. But on June 1, 2018, he had family, friends and laborers attempt to "wrongfully evict" her from the residence while she was out of the state.
Article continues below advertisement
"Ms. Cordon gained knowledge of the wrongful eviction from the live streaming of her security system to her cell phone," the statement continued. "She contacted the police, and the wrongful eviction was stopped. Even though Mr. McCoy did not personally move any of Ms. Cordon's furniture or furnishing on June 1, 2018, he directed others to do so."
McCoy allegedly had the cameras removed from the home and terminated the service provider after June 1. She had no access to arm or disarm the alarm.
The NFL star filed an eviction notice against Cordon on June 6, 2018.
In court papers obtained from Magistrate Court of Fulton County, McCoy claimed Cordon "refuses to leave" his home. He demanded she "return all/any items removed from premises."
Then on June 22, 2018, Cordon filed a motion to quash service of process on minor child, which means to make the request or decision invalid.
She explained in the court papers how her and her minor children have lived with the Plaintiff since October 2016. On or about May 28, 2018, McCoy discussed marriage with Cordon and gave her a "substantial gift." She explained how McCoy had other people remove her furniture and belongings from the home without her knowledge on June 1, 2018.
Article continues below advertisement
The eviction notice was served to Cordon's 16-year-old son, who is a minor, on June 11, 2018.
"Said service of process was improper and invalid as Defendant Cordon's son is a minor child," the papers read. "Said service of process should be quashed."
She claimed Tamarcus Porter filed the action on behalf of McCoy. She alleged McCoy has never asked her or her minor children to leave the residence.
She is asking for the action to be dismissed in its entirety.
As Radar previously reported, Cordon's friend posted a photo of her bloodied and swollen face after the attack. She accused McCoy of physically abusing her throughout their relationship.
"@shadymccoy is THE DEVIL!!! YOU ARE AN ANIMAL!!!!!!" she wrote. "We didn't say anything about how you beat your dog 'Henny' into kidney failure. Let's not talk about all the times my best friend had to stop you from VICIOUSLY beating your son for small things like peeing in the bed. We kept quiet about your drug usage… all the ILLEGAL steroids and needles you were using, but we will not keep quiet about this!!!!!!. I can't believe you did this to my best friend!!!!! YOUR KARMA IS GOING TO BE SO REAL!!!!!! The world needs to know what type of animal you really are!!!!!!! This was just her yesterday on the left and now this morning this is her on the right!!!!"
McCoy denied the claims over Twitter by writing, "For the record, the totally baseless and offensive claims made against me today on social media are completely false. Furthermore, I have not had any contact with any of the people involved in months."
Stay with Radar for more on the story.
We pay for juicy info! Do you have a story for RadarOnline.com? Email us at tips@radaronline.com, or call us at (866) ON-RADAR (667-2327) any time, day or night.