LeAnn Rimes On Patsy Cline Tribute Breakdown: 'I Was Thinking About Sex The Entire Time'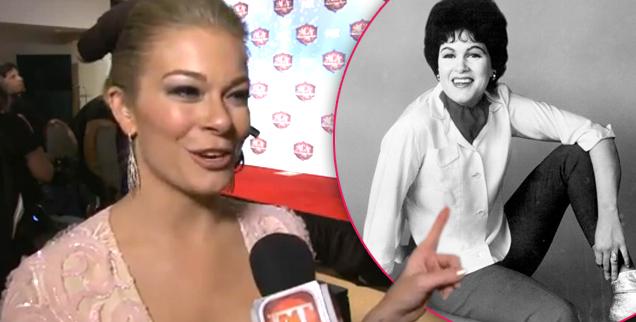 After LeAnn Rimes broke down during an emotional tribute performance for Patsy Cline on Tuesday night at the 2013 American Country Awards in Las Vegas, she revealed she was thinking about sex the entire time!
Yes, you read that right.
Rimes, 31, told Entertainment Tonight that thinking about sex when she got emotional was a trick her guitarist taught her.
"It was intense… She's touched so many people. Then about halfway through Crazy you see people who start to cry and then you're like, oh my God," Rimes said.
Article continues below advertisement
"My guitar player, he's always giving me the trick that works, he's like, always think about sex when you start to cry. And I was thinking about sex a lot through the whole thing. By the end of it, it was just such an emotional moment for me."
Rimes performed a medley of Cline's greatest hits that included "Crazy" and "Leavin' On Your Mind," in honor of the 50th anniversary of the country legend's death.
She broke down in tears and could be heard saying, "I love you Patsy. Thank you."
Watch the video of Rimes explaining how she pushed through the performance below: