Lakers Rally Round Cancer Stricken Jerry Buss -- 'We Love Him,' Says Metta World Peace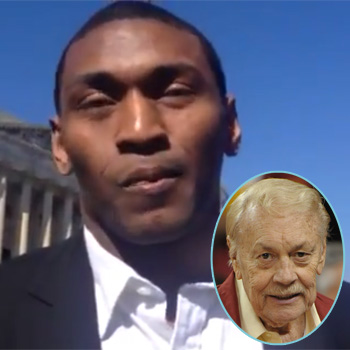 The Los Angeles Lakers long-time owner Jerry Buss is losing his battle with cancer and players like Metta World Peace are speaking out with well wishes in a video interview obtained by RadarOnline.com.
"I wish I could talk about him, but I don't think I'm allowed to right now," Metta said in an interview outside the U.S. Capitol in Washington, D.C. on Friday.
"He's a great owner. He put together great times and we love him."
Article continues below advertisement
As RadarOnline.com exclusively reported on Thursday, Jerry, 79, is currently at Cedars-Sinai Medical Center in Los Angeles and is expected to be in his final days, surrounded by family and friends.
Late Thursday night Laker's star Kobe Bryant also gave a shout out to Jerry tweeting, "We all LOVE our Dr B!!"
Not completely unrelated - but it's a stretch - Metta was asked whether or not he'd be getting a baby present for his former Laker teammate Lamar Odom's sister-in-law, Kim Kardashian.
"I'm a fan of the Kardashians. I know Lamar, and he's married to Khloe, obviously. And I know the Kardashian family, obviously," he said.
"I'll have no presents, but, definitely, I wish the baby well."
Speaking of the Kardashians, Metta had his own encounter with reality TV when he did ABC's 13th season of Dancing With The Stars, but it seems the 6'7" baller wants more screen time.
"That's a difficult world. It's difficult to get on TV," he said when asked about getting his own reality show.
"I'm going to continue to play ball and if we land one, then cool. But we gotta continue to work the networks and see if we can land one."
Would you watch Metta World Peace on a reality TV show? Leave your comments and well wishes for Jerry Buss below...
radar_embed service=youtube src="https://www.youtube.com/embed/QrxJqichMkA" width="560" height="315"