Shocking Video Of How Robert Durst Murdered Morris Black Revealed In New D.A. Filing
Los Angeles County District Attorney's officials said Robert Durst was "tying up lose ends" when he killed his Galveston, Texas neighbor in 2001 as part of an an effort to cover up the murder of his missing wife nearly two decades earlier, and RadarOnline.com has exclusively obtained video of how the criminal murdered him.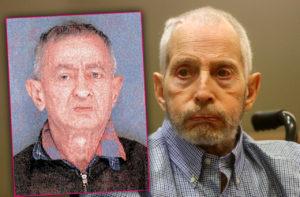 Article continues below advertisement
SEE THE SHOCKING COURT DOCUMENTS
In the 439-page motion, prosecutors argued this evidence must be included in the upcoming trial because what Durst did in 2001 — fatally shooting Black, dismembering his body, and disposing the body parts — are "analogous to the actions" that the millionaire took to conceal his wife's murder 19 years earlier.
Prosecutors included a short animated video that shows the struggle between Black and Durst, and how Durst shot his neighbor. Durst's defense attorneys initially filed a motion in an attempt to keep the evidence out of Durst's upcoming trial.
In their Dec. 27 motion, prosecutors said Black was the only person in Galveston who was aware of the millionaire's true identity since Durst was living as a woman under the alias of Dorothy Ciner.
"When defendant Robert Durst killed and dismembered Morris Black in 2001, it was the violent climax of his nearly year-long effort to conceal himself from New York authorities, who had re-opened their investigation into his missing wife, Kathie Durtst's, disappearance," wrote Deputy District Attorney John Lewin in the motion. "Defendant's actions demonstrated both his guilty conscious for having killed Kathie, as well as his plan to make it appear as though she had voluntarily abandoned her life. In addition, these actions not only revealed Defendant's fear of being exposed to criminal prosecution for killing his wife, that also unveiled his motivation for killing Susan Berman: to eliminate her as a witness."
Article continues below advertisement
Prosecutors allege Durst killed Berman because he wanted to eliminate her as a potential witness, who could expose Durst to criminal prosecution for killing his wife, Kathie, at their Westchester County, New York home on Jan. 31, 1982. Prosecutors said the morning after he allegedly killed Kathie, Robert instructed Susan to call Kathie's medical school and pretend to be his wife.
The elderly millionaire was arrested on March 14, 2015, one day before the series finale of the HBO documentary, The Jinx aired. In the film, Durst was seemingly caught confessing to committing murder, unaware that his microphone was still recording him during a brief break from his interview.
"As of this writing, it has been more than 17 years since Defendant murdered Morris Black, dismembered his corpse, and dumped his body parts in trash bags in Galveston Bay," Lewin wrote in the Dec. 27 motion. "Although the relationship was different, Defendant killed Morris for the same reason he killed Susan. Defendant believed, just as with Susan, that Morris was the only thing standing between him and a prison cell . He had to eliminate the problem. ... Defendant's grand plan of avoiding culpability for Kathie's death by murdering those he believed could send him back to prison is highly probative evidence that needs to be presented to the trier of fact. The probative value of the preferred evidence is overwhelming and the danger of undue prejudice is minimal."
Article continues below advertisement
A Texas jury found Durst not guilty on Nov. 11, 2003 of Black's murder. During a sensational 2003 trial, Durst's legal team argued the millionaire was only defending himself when the two men were struggling and a gun accidentally when off, fatally injuring Black. They also argued Durst was in a traumatized state similar to an out-of-body experience, which was caused by a previously undiagnosed psychological disorder.
We pay for juicy info! Do you have a story for RadarOnline.com? Email us at tips@radaronline.com, or call us at (866) ON-RADAR (667-2327) any time, day or night.