90210 Emergency Alert! Kyle Richards Warns Bad Things Are Coming For The Housewives!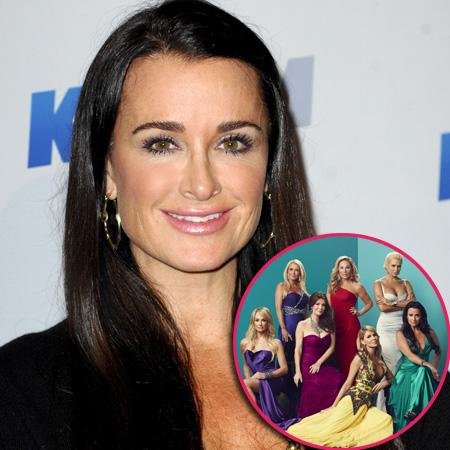 The drama never stops on The Real Housewives of Beverly Hills, although the show did take a break in this week's episode, which included a fun trip to Las Vegas, but in her latest blog entry for Bravo, Kyle Richards insinuates that something bad is about to happen – again.
In her blog, Richards writes of her daughter Sophia's graduation from middle school, the fun trip to Vegas, trying to choke down an oyster ( a food she can't stand!) and getting to know Brandi Glanville better. However, she ends the blog with an ominous statement, saying: "Next week there is more fun and then. . .not so fun. I should have known it was too good to last.."
Article continues below advertisement
Here's her entire entry:
This week was a welcome relief from the drama of Sophia graduating from sixth grade, while not a college graduation, is definitely something to celebrate. Being one of four daughters, I think it's important to celebrate them each individually whenever possible. I love being surrounded by family and friends on these special days. I am grateful to have such loving in-laws that are able to watch our children grow. Times like these always make me miss my parents because I want so much to be able to share all of these moments with them. I DO feel that my parents are watching over us, but of course it's not the same as having them physically here.
Watching Sophia standing next to me at 12 years old and 5' 6" makes me smile. I am 5 '3" on a good day, so I love that she inherited her Dad's height. Of course, she doesn't like being taller than her Mom and friends and is always hunching over to talk to us. Now though, she is starting to appreciate her height and is coming out of her shell.
I was excited to go to Vegas with the girls. Vegas is always fun and I knew there would be lots of laughs. The dinner that night was so much fun! I enjoyed getting to know Brandi better and was happy that we both got to see another side of each other.
Article continues below advertisement
I cannot believe she got that oyster down my throat. It was disgusting but it made me laugh. God knows I am always up for a laugh!
I also had to laugh watching us at the pool when I thought there was a bug in my hair. Lisa is always teasing me and I never know when she is joking. Everyone was in a good mood and ready to have fun.
Like Lisa, I wasn't thrilled with the idea of the pole dancing place, but I think everyone really wanted to support Brandi in her venture and maybe have a few laughs along the way.
Next week there is more fun and then. . .not so fun. I should have known it was too good to last..
Until next week. . .
XO,
Kyle
The Real Housewives of Beverly Hills airs Mondays at 9/8c on Bravo.