You May Kiss The Bride! The Bachelor's Sean Lowe & Catherine Giudici Marry On Live Broadcast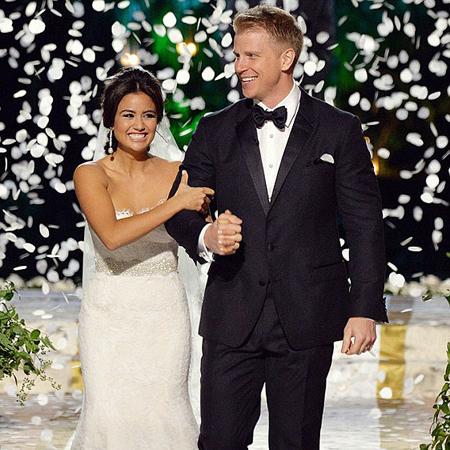 Sean Lowe currently and Catherine Giudici of The Bachelor's 17th season are now man and wife, marrying on Sunday night's live edition of the show.
Giudici, clad in a Monique Lhuillier gown, walked down the aisle with her parents, while Sean's father Jay, who wed the pair, read a touching soliloquy for those in attendance.
"Sean and Catherine's journey to find love with each other has been an epic fairytale on display for the whole world to see," he said. "Now we are all invited to witness their next step into their love story, and that's their marriage."
Article continues below advertisement
Catherine, 27, told the blond hunk, "Before I met you -- before I even knew you existed -- I knew you were coming. I was ready to give my whole heart to someone and now here you are.The first time I saw you you were like a light to my bug - I had to find you. You mesmerize me with how brightly you've shone. Every time I look up at you my heart fills with love sprinkles.
"Every time I kiss you my whole body feels it. Sometimes I think I'm going to explode from how much I love you. I am completely consumed by you. And tonight we get to become one … I thank God for bringing me to you, instilling that light so I could find you. I thank God for bringing you to me and igniting that same light."
Watch the video on RadarOnline.com
Sean, 30, told her in response, "We met in the strangest way you could possibly meet someone, on The Bachelor with an army of people following us around with cameras, but I know that wasn't by accident.
"I promise to be the best father I can be to our children, and promise to always make you laugh with my silly faces and ridiculous voices. So today in front of my dad, my family, all of our friends, I say that I love you and I'm going to love you for eternity."