RHOA Part Two Reunion Shocker! Kim Clashes With Kandi, But Buries Hatchet With NeNe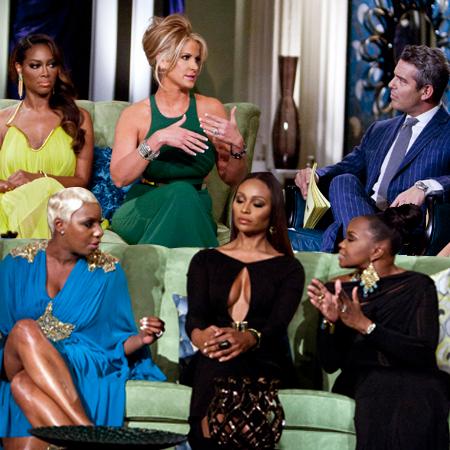 The wig was off, but the claws were out when Kim Zolciak made her big appearance on The Real Housewives of Atlanta Reunion Special, Part Two on Bravo.
Kim made a shocking exit from the show last year when she decided not to go to Anguilla on a trip with the other housewives, but told host Andy Cohen it didn't feel awkward to see her co-stars again. In fact, she made a grand reunion entrance in a green dress that showed off side boob-- and displayed her real hair! Andy was so thrilled that Kim came without her trademark fake hair that he pulled on her bangs just to be sure, and marveled, "the wig is gone!"
Article continues below advertisement
But the two quickly got down to business -- having the other housewives rake Kim over the coals!
In the reunion show's biggest controversy, the ladies discussed how Kim stormed off the set instead of agreeing to go on a planned trip to Anguilla with the other housewives. Kim stressed it was because she felt it was too dangerous to travel to Anguilla while she was pregnant. "Anguilla is in another country, god forbid anything would happen," she pointed out. "I had a lot going on...having pregnancy problems. I thought I can't deal anymore!" But her co-star Cynthia Bailey said they had changed the trip date to accommodate Kim and told her, "I feel like we're part of a team and we weren't being respected." Phaedra Parks one-upped Kim by adding a baby wasn't a good excuse for Kim to quit the trip: "I had my first child on air. I never took off one day with my baby." Then Kandi Burress snapped at Kim, "Everybody felt like you were full of it. You always had an excuse." Kim countered that unlike Kandi, "Nobody's raising my baby but me!"
NeNe Leakes said she knew Kim would leave the show after the incident and Cynthia admitted she felt "relief" when she left. But Kim, who now is starring on her own Bravo show, Don't Be Tardy, had unfinished business with Kandi--as many felt Kim had insulted Kandi's home and neighborhood as unsafe on RHOA. Kim claimed she hadn't bashed Kandi's home but Kandi disagreed -- and then NeNe jumped in and implied Kim might be racist! "It could either be racist or ignorance," NeNe shrugged, saying Kim often put her foot in her mouth when it came to her African-American housewife co-stars. But Kim insisted, "I'm NOT. I don't see color and I never did."
Article continues below advertisement
Later, Kim and Kandi reflected on how their friendship fell apart, with both housewives admitting they weren't good at communicating. "We had a lot of great times; a lot of fun times," Kandi said. But since Kandi has filed suit against Kim over royalties to her song "Tardy for the Party," it appears their friendship is gone for good!
In another twist on the reunion show, NeNe Leakes revealed she felt the other housewives had tried to come between her and husband Gregg. The couple, who had previously divorced, got back together this season, and Gregg asked her to marry him for a second time. But during the reunion, NeNe charged that her co-stars were "being negative at the time" and made things hard by gossiping about her alleged interest in other men. But Kandi denied it and said, "I'm glad y'all back together."
Watch the video on RadarOnline.com
Meanwhile, Phaedra and her hunky husband, Apollo Nida, sent the temperature soaring on RHOA this season by French kissing for the cameras, and Phaedra bragged during the reunion show, "My husband really likes to kiss like that, a little public display of affection." However, NeNe was not impressed and went into attack mode later, criticizing Phaedra for talking to NeNe's half-sisters to dig up dirt on her. "There was no real reason for you to do that. You never can win when you're dirty, honey!" NeNe shouted at Phaedra. Phaedra claimed NeNe was paranoid that everyone was against her, but told The New Normal star, "If it hurt your feelings NeNe, I apologize."
Article continues below advertisement
But at the end of part two of the reunion show, it was NeNe and Kim who truly buried the hatchet. They both told Andy they doubted their friendship would ever be rekindled, but Kim said if she bumped into NeNe in a restaurant, she'd have a drink with her. And Kim admitted without her frenemy NeNe originally recruiting her to be on RHOA, she wouldn't have met her husband, football player Kroy Biermann, or had their two kids. Meanwhile, NeNe told Andy, "We're both in two different place in our lives." Still, after the host urged Kim and NeNe to hug, that's just what the two housewives and former friends did!
Part 3 of The Real Housewives Of Atlanta reunion special airs next Monday at 8/7c on Bravo.