Kim Richards Considering A Permanently Plump Pout? 'RHOBH' Star Asks Taylor Armstrong For Lip Injection Tips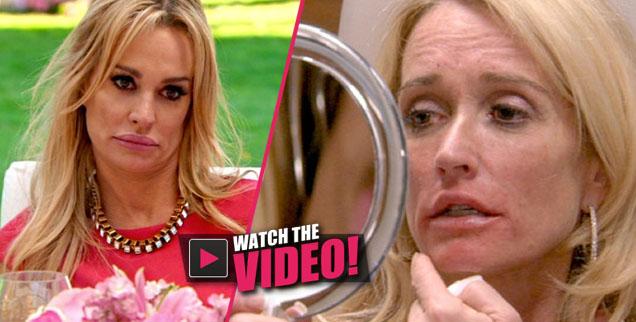 As Kim Richards pondered whether to go under the knife to get fuller lips, she sought out advice from former The Real Housewives of Beverly Hills star Taylor Armstrong, who has a permanently plump pout.
In a clip from the RHOBH Season 4 "Secrets Revealed" episode, Richards invited Armstrong to a cosmetics store and asked her what work she's had done.
"How would you make your lips a little bit bigger?" Kim asked.
Article continues below advertisement
Armstrong, who recently tied the knot, explained that she had a tube inserted into her lips, instead of getting fillers that only last a few months.
"Do you feel it in your lips?" she asked Armstrong, of the implants, which are made of silicone and offer a long-term solution for a plumper pout.
Richards went on - even asking her former costar if the tube is noticeable when she sucks on things.
"When I suck on things?" she replied. "I've never had any complaints there."