Kim Kardashian Reveals Rough Pregnancy: 'It's Just Really Painful Everywhere'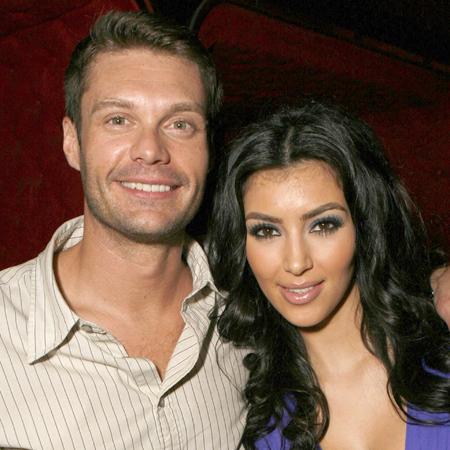 Kim Kardashian opened up about her rough pregnancy in a special interview with Ryan Seacrest on Sunday night on E!
"I was waiting for this amazing experience where I could just do whatever I want, eat whatever I want, feel great, and it just hasn't been that way," Kim sighed about the baby she's expecting with boyfriend Kanye West on Ryan Seacrest with The Kardashians: An E! News Presentation. "I haven't had morning sickness, so I've heard that I'm really lucky, and I feel lucky but it's just really painful everywhere." In fact, Kim cries all the time and says "Seriously It's not even an emotional thing--it's like a pain, physically."
Article continues below advertisement
Her sister Khloe then elaborated the gory details: "Her back hurts, her breasts hurt, her stomach hurts, her feet hurt, her head hurts, her eyes hurt, her nails hurt." Kim agreed: "Pain everywhere! Seriously."
And Kim implied to Seacrest that she worries about having a healthy baby, confiding, "I get really paranoid and start Googling things and the images that come up are really scary, and it just freaks me out all the time."
The reality star also has been rattled by the advice of well-meaning people. "I think that's why I was anxious for awhile because people will say, your life is totally going to change and obviously you want to evolve in your life to change and it will be an amazing thing -- but the way people freaked me out all the time with all their advice?" Kim said. "Sometimes I'd rather go through it and experience it on my own."
Article continues below advertisement
Meanwhile, Khloe, who is married to Lamar Odom and has been struggling with infertility, revealed more in the E! special about how Kim is dealing with pregnancy and how her sister has been joking with her NOT to get pregnant. Because of Kim's painful pregnancy, which is so different from their mom and sister Kourtney's easy ones, Khloe smiled, "I am loving my life every single second. It's scaring me to death to have a baby." Kim said she called Khloe and told her, "Don't do it! You're so lucky. Hold onto these moments, Khloe, adopt! Surrogacy! Anything! I hate this!"
When Seacrest asked if Kim would walk down the aisle again, she didn't shrink from referring to her now ex-husband, Kris Humphries: "I do think I would get married again. That's what I've always wanted and just because you think you find it and realize that's not it. I think I was brave enough just to realize that quickly and not waste time and I found what I really wanted. So I think I definitely do want that marriage."
Article continues below advertisement
radar_embed service=5min.com src="http://pshared.5min.com/Scripts/PlayerSeed.js?sid=281&width=560&height=345&playList=517750097"
Kim also mentioned why her main man, Kanye, wasn't on her TV show Kourtney & Kim Take Miami, saying, "He loves the show and loves watching the show. He travels so much that sometimes it's just not a reality for him to be there all the time and be on, and he loves to watch it and the whole experience."
Earlier on the TV special, in a freewheeling discussion over dinner with the entire family, fries dipped in honey were brought out for pregnant Kim, as her overweight brother, Rob Kardashian, joked he didn't want those in front of him!
Also during the E! show, Scott Disick revealed an X-rated secret about him and Kourtney right in front of the clan. When Ryan asked Scott about the wildest thing he'd ever done, the sometime businessman said, "When we were first dating, right in the beginning, she and I had sexual relations while I was driving an automobile on the 101 freeway to get home, and I'll tell you, I missed the exit because she was working her magic. I had a couple more minutes in me, so anyway, I was going to get off, no pun intended, the exit, but I knew I had a little bit more left in me, so I took the next exit, and then we swooped around and went home. But at the time, she's honking the horn like a wild woman -- beep, beep--with her back and people think I'm beeping at them and I said, that's not you, honey. I'm trying to have a little sexual relations here."
Article continues below advertisement
Then Kourtney purred, "'and that's the wildest one we can tell you guys about."
Later, the two did a sit-down interview together with Seacrest and when asked about marriage, the happily unwed Scott told Ryan, "Now? No. Have you seen the way these marriages go lately? I think if it's not broke, don't fix it. You know what I mean? I would say we're decently happy. I feel like I used to want to get married more than she did and then being that she was always so not interested, I've decided to not be."
But Kourtney said, "I'll make little comments like about the yoga meditating wedding ceremony." Scott said, "She goes, 'so, doll, I'm thinking if we ever got married, it would be really cool if we did it in a yoga way.' I was like, 'wait, what?' She's like 'everybody on a mat meditating' ." Kourtney then told Seacrest, "No, I said 'let's do it super cool like everyone chilling out--not on yoga mats-- but everyone feeling super chill and like just relaxing." "A steam room," Scott joked. Kourtney said, "a lot of our relationship has been seen by everyone. It's definitely made us not care about what everyone thinks."
Article continues below advertisement
But seriously, when asked about marriage, Kourtney said, "I feel like I would someday." But Scott said, "I think we want to get to know each other first." How long will it take them to get to know each other? "I would say 20 years. Then we know we're committed," he said. But Kourtney demurred: "I would say ten years," she said.
"I'll see you there--on the yoga studio mat," Scott laughed. "Can't wait. Clocking it in. Putting it on the schedule."
Having their relationship on camera has helped their relationship, according to Scott, who said, "we've become stronger because of some of these problems and we've worked through them and stayed together and stayed strong."
They've been worried about the effect the show will have on their kids Mason and Penelope. When asked if they'll be allowed to watch it, Kourtney said, "At some point they will," while Scott chimed in: "I've definitely thought about that and it's been tough. One of the biggest things that they struggle with is the fact that obviously they're not old enough to ask how they feel about this. If somebody would have came to me when I was old enough to understand as a kid and said, look, your parents were on this reality show, they involved you, but they were able to make your life better, I'd say, all right. I'm fine with that. We hope but look, they may become a certain age when this is still going on and they're like, I don't want this--but it's hard when you can't really communicate that," he said.
Article continues below advertisement
In the funniest moment on the special, which celebrated six years of the Kardashians on E!, Khloe revealed she's been getting sex and fertility advice from fans. She went to Bed, Bath, and Beyond and "I was just in there looking and someone was like, 'Khlo, if you want to have a boy as soon as he bleeps inside you lift your butt up, and it's just going to'--and I go, 'Oh, my God.' And I'm vulgar. That was way too much for me. I was so caught off guard. It was very sweet, I get that people want to give me 'how to have baby' advice but that was a little too intense."
Watch the video on RadarOnline.com
There's more Kardashian drama soon to come! Keeping Up with the Kardashians 8th season premiere debuts Sunday, June 2 on E!