Exclusive
Kim's Robbers CAUGHT! Bombshell New Video Exposes Thug Behind Heist Nightmare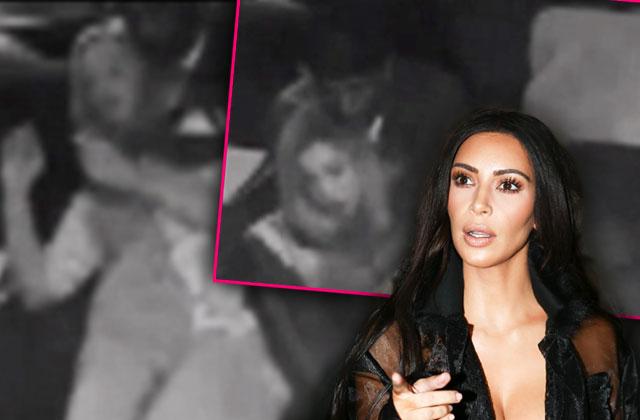 An explosive new video tied to the seedy underbelly of Paris could crack Kim Kardashian's robbery case wide open at last — by revealing one of the culprits!
In a world exclusive, RadarOnline.com has obtained a copy of alleged security camera footage taken of the chilling heist that unfolded at the No Name Hotel in Paris on the night of October 3.
More than two months after Kardashian, 36, was held at gunpoint in the luxurious Paris pad and robbed of millions in jewels, French cops remain stumped as to who was behind the terrifying heist. But now, Radar can reveal the face of one of the alleged culprits for the very first time.
Article continues below advertisement
According to an insider who claims to have ties to the French underground, the thieves demanded that staff at the property give them footage from the cameras on site, in the hopes that they would remove any trace of evidence.
But since that fateful night, they've been showing the stunning video to their fellow crooks – and Radar obtained a copy!
The insider claimed that the video shows "Kim's friend or nanny being held by one of the robbers."
"They were storming the room, and one of her friends was being held."
"At the time, Kim was in her bedroom, and there weren't any cameras there. She didn't come out to help her friend outside of her door."
"But you can see that it was very violent. Kim had every right to be spooked!"
Indeed, the grainy black and white footage shows an unknown thug dragging a blonde woman around by the neck.
Holding her tightly against a brown couch, he is vicious and brutal – and the woman clearly looks terrified.
Article continues below advertisement
Most shockingly of all, the man looks directly into the camera at one point as he chokes out the woman from behind. This moment could represent the very first time that the faces of any of the members of the brutal gang of thugs has been revealed to the public.
Up until now, French cops have had to make do with dark and blurry footage of the robbers escaping from the scene of the crime on bikes later that night.
They also have found one piece of Kardashian's jewelry, a diamond cross necklace, that reportedly seemed to have fallen as one of the robbers fled.
But other than those early leads, the Parisian forces remain stumped.
Will this video be the clue they need to crack the case at last?
Insiders told Radar that Kardashian certainly hopes so. Still struggling to process the horrifying incident, she suddenly had to deal with 39-year-old husband Kanye West's mental breakdown earlier this month. Seeing her tormentors behind bars, an insider said, would at last put a bit of closure on the end of a trying year.
Article continues below advertisement
Said the insider, ""Kim thinks that it is absolutely absurd that these guys have not been caught. She will never be able to get this out of her head because she was certain that she was going to be killed. The fact that nothing has been done and no one has been charged just makes this whole situation that much worse for her and her family. At this point she is starting to think that they will never be caught."
We pay for juicy info! Do you have a story for RadarOnline.com? Email us at tips@radaronline.com, or call us at 800-344-9598 any time, day or night.