Kim Kardashian Insists Kanye's Proposal Was 'Complete Surprise,' Family Thought He Was Hosting A Birthday Party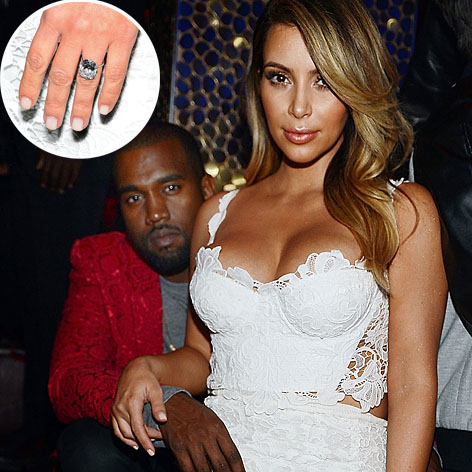 Despite a massive camera crew on scene to record their every move, Kim Kardashian is insisting Kanye West's marriage proposal came as a "complete surprise."
The rapper rented out AT&T Park in San Francisco Monday night, and his baby mama, most of her family plus many friends were all on hand.
The Keeping Up with the Kardashians star is now saying they all assumed it was just West's way of throwing her a memorable birthday party.
Article continues below advertisement
That is, until he got down on one knee and pulled out THE RING.
"I was shaking the whole time. It was like an out of body experience," she told reporters while hosting a bash at Tao nightclub in Las Vegas Friday night.
"Complete surprise. I truly had no idea," she added.
Everyone there "thought it was a surprise birthday party. Everyone -- my sisters -- it was such a surprise," the new mother said.
Kim is now leaving all the wedding plans up to West as well, except for one element. Stepdad Bruce Jenner will be walking her down the aisle, she revealed.
He wasn't there when the engagement took place but the reality star said he was the first person she called with the news.
You can watch West's "surprise" proposal HERE: