Khloe Kardashian Slams Australian TV Show After Being Asked About Kim & Kanye's Daughter: 'You Are So F***ing Desperate!'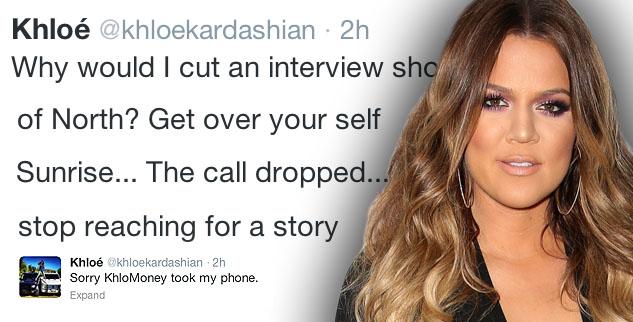 Khloe Kardashian is attacking the Australian morning show, Sunrise, on Twitter after host Samantha Armytage asked her an "unapproved" question about sister Kim and her fiance Kanye West's baby daughter, North West.
Sunrise said Khloe's team pulled the plug on the Monday morning satellite interview during the conversation because of Armytage's question about North.
But Khloe later denied it and fired back, tweeting about the Sunrise show, "You are so f***ing desperate."
Article continues below advertisement
The Keeping Up with the Kardashians star also wrote on Twitter, "Why would I cut an interview short because of North? Get over your self Sunrise… The call dropped… stop reaching for a story."
Later, Khloe joked via Twitter, "Sorry KhloMoney took my phone," meaning her evil twin!
But Sunrise executive producer Michael Pell tweeted, "What happened with @khloekardashian on the show is a good lesson for publicists everywhere. Don't try to censor natural conversation."
He later tweeted that the local rep for Kardashian had apologized to Sunrise.
The trouble began when Khloe appeared via satellite live from L.A. to talk to Aussie host Armytage about the Kardashian Kollection's new line of lingerie and baby clothes.
"I guess the baby line is inspired by nieces and nephews starting to arrive," Armytage commented to Khloe.
"How's baby North going?"
Khloe replied, "North is fabulous and she's so beautiful."