KUWTK: Khloe Kardashian Calls Husband Lamar Odom A 'Very Depressed Person' With 'Emotional Issues'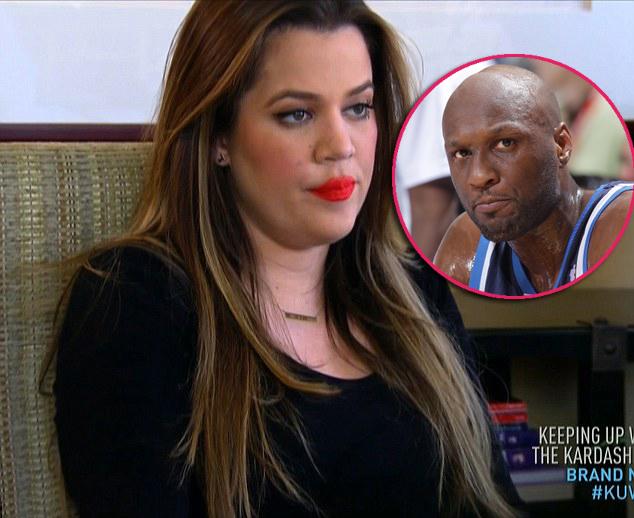 Khloe Kardashian's marital meltdown with Lamar Odom, which was hinted at during last week's episode of Keeping Up with the Kardashians, reached a full boil Sunday as the reality TV star finally bared her pain about her husband's bizarre behavior on the show.
"Holy moly! There's a lot of emotional issues I think Lamar has," Khloe exclaimed on KUWTK after taking an odd phone call from Lamar while having lunch at the Jenner home with her half-sister, Kylie.
Article continues below advertisement
"I do want to help or cater to Lamar but also, there's only so much anybody can take."
Khloe then told the E! cameras, "Lamar is a very depressed person, which is sad but understandable for everything he's been through in his life.
"I do love Lamar with every ounce of who I am but it's really scary when someone's in such a deep low and you know they're kind of relying on you to get them out and you're trying and you're trying and you're trying and nothing's really working."
During the incredible revelation that occurred at the end of the reality show, Lamar kept calling Khloe, at one point seeming to doubt that she was at the Jenner house.
"He's so annoying right now," Khloe sighed to Kylie after one of the calls. "Go back to basketball!"
After Lamar had called her twice on her own cell phone, he also rang her on the Jenner house phone.
"I'm here at mom's," she insisted to her unseen husband. "I think you're tired."
Article continues below advertisement
"Where does he think you are?" Kylie asked when she ended the call.
"I don't know, Kylie," Khloe sighed. 'I can't answer you."
With Khloe seeming like she was near tears, Kylie looked at her with obvious concern.
And incredibly, when Kylie commented that she didn't know what was going on in her big sister's life, Khloe said, "I don't really know what goes on, either."
But as the public has known for months, Lamar and Khloe's marriage imploded after revelations about the NBA star's alleged cheating and drug use, and Sunday's KUWTK only added more fuel to the fire.
What's more, Khloe revealed on the show that she had stopped seeking medical treatment for her infertility problems that had been widely publicized.
Early in the episode, Khloe snapped at Kim because her sister, who is still pregnant on the show (although she gave birth to Kanye West's daughter, North, in June) nagged her about resuming her visits to an infertility doctor.
"I want to help her," said Kim, who thought she herself might be infertile before unexpectedly conceiving with Kanye.
Article continues below advertisement
"Do you think Khloe should adopt?" Kim asked her mother Kris later over lunch.
"I don't know what's holding her back."
Kris said, "She's not in that state of mind. It's like she doesn't care."
In another scene, Kim tried again, encouraging Khloe to visit fertility doctor Mark Surrey.
"Everyone is so pushy," Khloe said in confessional. "When I'm supposed to get pregnant it's going to happen."
But Khloe also told the camera mysteriously: "I'm not ready to continue with fertility treatments. There are some things that not everybody knows and me and Lamar are the only two people that do need to know that."
However, Khloe asked if Kim would get off her case if she considered going to the doctor.
Khloe laughed when Kim told her she should also pursue adoption.
"What is so funny? You're really running from this," quizzical Kim said.
"I told you I'm going. Now you're being f***ing annoying," Khloe said, storming away.
Later, Khloe and Kim paid a visit to adoption attorney David Radis.
"Because my husband travels a lot, is that a negative thing?" Khloe asked him, but he said it wasn't.
Article continues below advertisement
Kim didn't think Khloe was interested in the adoption inquiry, and said, "I'm so confused. I thought this was such a great idea."
Later, Khloe did go ahead and see Dr. Mark Surrey--and admitted it had been a whole year since she'd been there last!
Talking to Lamar on the phone, Khloe told her husband, "The doctor wants to see you again too."
"He's so weird right now," Khloe confided to sister Kourtney when she got off the phone.
She said Lamar had told her, "I really need to talk to you."
But his issues weren't spelled out, and Khloe told the cameras, "I'm not someone who likes to bore people with my problems."
During the exam, Dr. Surrey told her that previously, "The egg maturing was not happening in your body."
Khloe said she was scarred by the experience the last time, but Dr. Surrey told her on this visit that her follicles showed she'd be fine carrying a pregnancy.
Article continues below advertisement
Still, Khloe told viewers in confessional, "I'm just not at that place right now to get pregnant."
In another KUWTK storyline, Bruce Jenner said Khloe had no idea how to train her dog with Lamar, named Bernard. Khloe claimed her dog was fine, even though he tore apart a blanket.
"That's the most exciting thing that's happened to me in a long time," Bruce said as the dog licked his lap.
During the scene, Bruce asked her if Lamar was messy and Khloe said, "Duh, yeah," but claimed she didn't care.
When Khloe played with Bernard and talked to her brother Rob about the pooch, they appeared to be making fun of the way Lamar talked, adopting a slow drawl.
Meanwhile, Bruce tried to secretly train Bernard in Khloe's absence, but when she found out he'd put a prong caller on the dog, which she termed cruel, Khloe confronted her stepdad.
Bruce said, "You're not tough enough with the dog."
But he apologized to Khloe: "The dog is yours and I want you to do your best to train it. I'm out of it. I love you."
Article continues below advertisement
In Sunday's other KUWTK plot, Kris hit the roof when she learned Kourtney's baby daddy, Scott Disick, had traded in a Vespa scooter she'd bought him for Christmas.
Kourtney admitted to viewers Scott had ditched her mom's pricey gift.
"He's the king of returning presents," Kourtney said. "Nothing lives up to the Lord's standards."
After Scott lied to her about it, he finally admitted to Kris, "I traded it in for a motorcycle. I'm not a scooter rider!"
Watch the video on RadarOnline.com
"It was a gift and it meant a lot to me. I can't take it anymore," Kris said, walking away.
Later, though, Scott apologized -- and they agreed to go on a scooter day together, just the two of them.