Best 'Tonight Show' Entrance EVER! Kevin Bacon Recreates 'Footloose'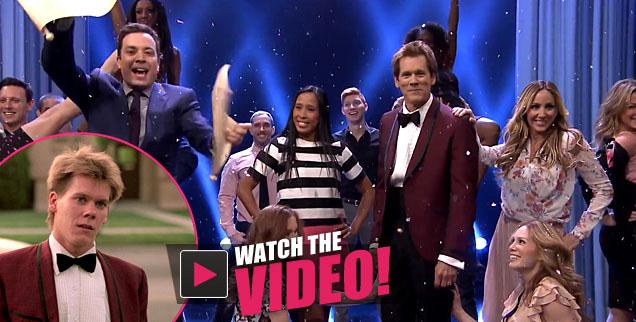 Kevin Bacon made what will no doubt become one of the most memorable entrances of all time on The Tonight Show.
After host Jimmy Fallon read a proclamation that dancing was no longer permitted on his late night show, the camera cut to Bacon in the green room.
He reacted to the news in the exact same way, with identical angst, his character of Ren McCormack did in the iconic 1984 flick, Footloose when he learned dancing wasn't allowed in his new town.
Article continues below advertisement
Shot-for-shot, the seemingly ageless Bacon was every bit as agile as he was at age 25.
Then recreating the movie's final scene, with confetti falling and Kenny Loggins' Footloose theme song blasting in the background, a tuxedo and bow tie-wearing Bacon danced through The Tonight Show curtain to join Fallon on stage.
Pure magic!
youtube