New Details On Kelly Clarkson's Secret Wedding! The Dress, The Rings — And Now The Baby Plans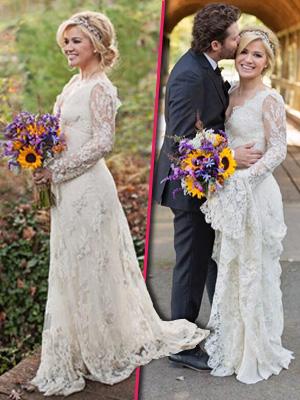 We've got all the latest details on Kelly Clarkson's surprise weekend wedding to love Brandon Blackstock, from what she wore, to the bling, and where they're going from here.
As we previously reported, American Idol's first-ever champion, 31, and Blackstock, 36, stepson to country legend Reba McEntire, wed this past Saturday at Walland, Tenn. resort Blackberry Farm.
Johnathon Arndt, a Beverly Hills-based jeweler, described the celeb wedding to People, recalling that the bride and groom "were walking hand-in-hand.
Article continues below advertisement
"It was just what you expect from two people in love."
As for the bling? The comely country couple was decked out in jewelry, with Kelly's wedding band (locked with her engagement ring) coming at 4.24 carats, while Blackstock's -- which Kelly designed -- has a total of six sapphires in it.
When she walked down the aisle, Kelly wore a Temperley Bridal Jessamine gown, which the magazine said sells for more than $7,000. Her stylist Steph Ashmore said, "When she tried them on, it felt like she liked every single dress," but the Temperley had a "Jane Austen-meets-country-relaxed feel," which sealed the deal for the 'Miss Independent' singer.
"It feels like an heirloom," said the stylist.
As for babies, Kelly and Brandon might be hearing the pitter patter sooner than later, as she told the magazine in Sept., "We want to have more children. We're just excited."
Arndt summed it up best, saying that "when you see Kelly and Brandon together, they are just as in love as you would think of in a fairy tale."