The Catfight Factory! Mama Joyce Attacks Kandi Burruss' Assistant Carmon As 'RHOA' Star Shops For Wedding Dress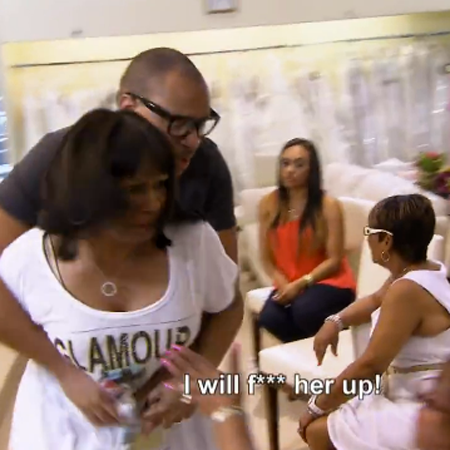 Kandi Burruss tried on her first wedding dress ever -- but what should have been bridal salon bliss turned into the catfight factory instead!
On Sunday night's The Real Housewives of Atlanta, the music producer who also stars on The Kandi Factory and is engaged to boyfriend Todd Tucker, watched in horror as her mother Joyce and friend/assistant Carmon had a pitched battle at the bridal salon.
As RadarOnline.com previously reported, it all started when Mama Joyce objected to Carmon being at what she termed a family event -- and had to be held back from throwing a shoe!
Article continues below advertisement
But viewers on Sunday saw things get even worse, with Joyce, who considers Todd an opportunist who will take Kandi's money, insisting to everyone she won't marry him.
With both of Kandi's aunts, Bertha and Nora, agreeing with her, Joyce sniffed of the wedding dress, "She ain't going to wear it nowhere."
Mama Joyce would only approve, "If she finds somebody else to marry."
And Joyce was outraged that Carmon, whom she's accused of sleeping with Todd, was there to help with the wedding dress shopping.
Joyce had to be held back with her shoe in her hand as she lurched at the personal assistant.
"You can't control yourself right now!" Carmon marveled.
After both women shouted and almost got physical with each other, Joyce accused Carmon, a longtime Burruss friend, of getting Kandi's "leftovers," including Todd.
"Whoa, mama stop!" Kandi said.
When Carmon finally stormed away to another part of the salon, Kandi sighed, "Nobody's really in the mood to look at dresses."
Article continues below advertisement
But after she decided to try on another one, anyway, to diffuse the situation, her aunts registered their disapproval, too.
"I don't want you to marry," one said.
"I don't either," her other aunt said.
"Well, you know how I feel about him," Joyce growled.
Carmon told Kandi privately that she felt Mama Joyce came to the bridal shop just to be negative.
The assistant complained to Kandi that she was always riding the fence when it came to her mother and everyone else in her life.
"You have to make a choice that you're not going to be putting up with this," Carmon told Kandi.
"I feel so sorry for you. She'll be running your life forever!"
Earlier on Sunday's episode, fiance Todd echoed those sentiments about Mama Joyce, telling Kandi, "You have to stand up to her. She's disrespecting your future husband. You gotta control it. That's how I feel."
Meanwhile, in another show development, Phaedra Parks kissed and made up with her husband, Apollo Nida after the two had gotten into a tiff about him sending allegedly inappropriate texts to co-star Kenya.
Article continues below advertisement
Apollo apologized to his wife after she returned from her mortuary exam in Alabama.
But he said, "I see you're still pissed off. You only hear what you want to hear."
Phaedra countered that none of Apollo's guy friends would never ever get close to her.
"It's inappropriate for you to be texting her," Phaedra said of Kenya.
Apollo said he was done with it -- yet she kept discussing it!
"I would never choose another woman over you," he stressed.
Phaedra told the cameras, "I'm ready to move on."
And she told Apollo that in four months, when she was done with mortuary school, she'd have more time for him.
Watch the video on RadarOnline.com
"I wish I could have the old Phaedra back," Apollo said.
The couple hugged and kissed.
Also on Sunday's episode, NeNe Leakes invited all the girls on a bonding trip to Savannah, Georgia, and they agreed -- although Kenya told the cameras she wasn't too keen on it.
Article continues below advertisement
"We won't be wanted at Paula Deen's restaurant" there, NeNe joked.
Meanwhile, Cynthia Bailey confided in Leon Robinson, her former boyfriend and father of her daughter, Noelle, 13, that the girl had a boyfriend.
"You know I want to meet him," Leon told Cynthia and the two discussed having a serious chat with the teen about not having sex yet.
Cynthia's actor ex said, "She's going to have sex one day" as the housewife shuddered.
And in a Sunday show moment for Porsha Stewart who split from her football player husband Kordell Stewart the reality TV beauty wound up in the hospital after fainting.
"The blood supply to my brain isn't there," Porsha explained to her sister Lauren later as they shopped at the drugstore.
"It's hot in here," Porsha also complained.
Watch the video on RadarOnline.com
When NeNe called to check on her, Porsha said doctors told her her fainting was attributed to stress.
She joked that her ex, Kordell -- whom she has accused of allegedly being gay and not being interested enough in sex to get her pregnant -- might be trying "to put some vodoo on me!"