Kailyn Lowry's Pals Are Helping Her Come Up With Baby Name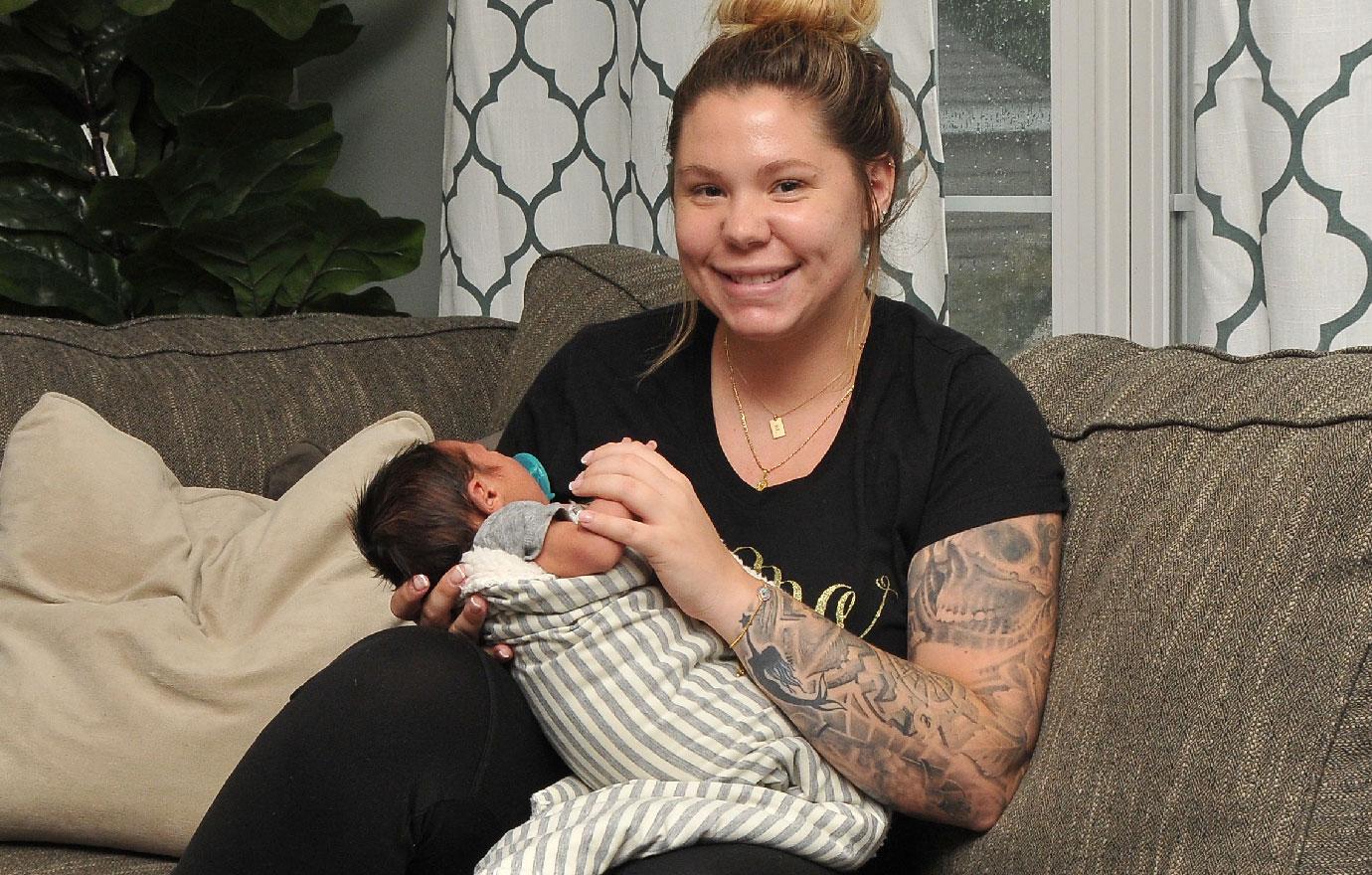 Is Kailyn Lowry simply too exhausted to decide on a baby name?
The Teen Mom 2 star and new mom of a bouncing boy STILL hasn't come up with a baby name about a week after giving birth, according to her Twitter feed.
The process has been slow and Lowry, 25, wrote via Twitter last night, "My friends when trying to help me name my son" with laughing 'til they cry emojis.
Then the reality star included a screen shot to explain what she meant, sharing what her athlete pal Bone Estrada wrote to her about a possible baby name: "Sorry my sisters cousins ex boyfriends aunt who passed away 10 years ago dated a boy in high school who was best friends with a boy knew a kid named that."
Article continues below advertisement
And earlier, letting fans know how busy she is with her third boy, Lowry had tweeted about her busy mommy life, "Nurse, shower, nurse, eat, nurse, sleep" with happy emoji and sleepy emoji faces.
In an exclusive interview with Radar, the Teen Mom 2 star previously revealed details on her labor and her status with baby daddy Chris Lopez.
"My water broke at 1:30 in the morning and I got to the hospital by 2:40 and then I had him at 3 a.m.," Lowry told Radar. "Labor happened so fast. Literally from start to finish was two hours."
Lowry admitted there had been drama in the delivery room for the TV star who already has sons Issac, 7, with ex-beau Jo Rivera, and Lincoln, 3, with ex-husband Javi Marroquin.
Lopez wound up being at the hospital with Lowry for the birth, despite their on-again, off-again problems.
"I was always hoping he would come, but just based on how our relationship has been there was always a question whether he would have his phone on him or would he be at work," she told Radar. "I'm so glad that he came.
Article continues below advertisement
"I begged for an epidural, but there was no time. My doctor didn't even make it to delivery."
First photos were made public of Lowry with her baby son.
They showed that Lowry and estranged boyfriend Lopez were together when they left Bayhealth Kent General hospital in Dover, Delaware on August 7 with the baby.
But Lowry has been unable to name her child as Radar has reported.
Lowry admitted in her Radar interview, "We don't have a baby name at all and we don't have any ideas either."
Although the MTV star asked Twitter followers to help her choose among the names Murphy, Ripkin, Griffin, Nixon and Silas, she revealed that they are no longer top contenders.
"Everything we thought we liked doesn't fit him," she said.
The worn out single Teen Mom 2 star admitted to her fans last Sunday morning in a 5:07 a.m. tweet, "I still don't have a baby name."
And this weekend, Lowry still hasn't decided on a moniker.