Oh Behave! Justin Bieber SPANKED By Zach Galifianakis!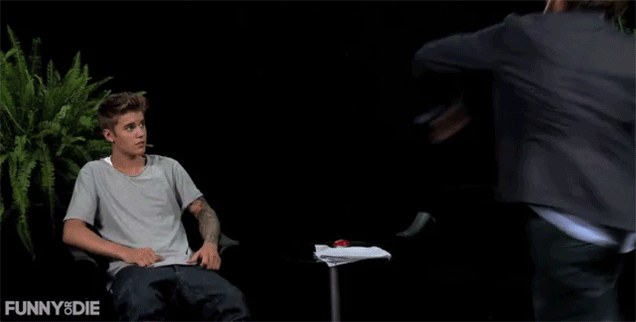 Justin Bieber deserves a good spanking! At least that's what Zach Galifianakis thinks and he soundly delivered the walloping that the little punk has been asking for.
All in good fun, of course.
The "Baby" singer and the Hangover star filmed an episode of Between Two Ferns for Funny or Die and the hilarious skit hits every point of Justin's wild lifestyle lately.
"It's really exciting to talk to you, especially right in the middle of your public meltdown," Galifianakis deadpans to Bieber.
Article continues below advertisement
After Bieber says he doesn't eat McDonald's and Galifinakis says: "Yeah me neither, I don't like that junk," the teenager shows off his comedy chops by retorting "Are you sure?"
Taking an easy shot at Bieber, Galifianakis says: "When you're in the recording studio, do you ever think, 'Hey, what if I don't make something sh*tty?' Does that ever pop into your mind?"
Galifianakis finally loses his cool with Bieber, screaming, "You know what, I don't like your attitude, to be honest! You're too young to be smoking pot and pee-peeing in buckets and driving up and down on the highway fast!" and takes off his belt and beats a cowering Bieber while yelling: "I don't think our mom would mind if a stranger whipped her son."
Check out the hilarious video from Funny of Die.