Justin Bieber Apologizes For Smoking Pot - Sort Of - On SNL, Watch It Here!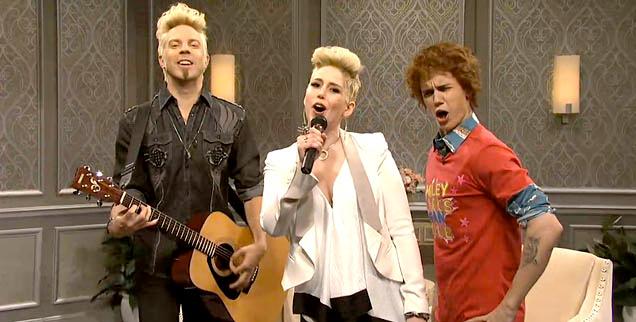 Justin Bieber made his first Saturday Night Live hosting gig a memorable one by apologizing for "smoking weed!"
Well actually, it was Biebs in character in a sketch, but the bit wasn't lost on the audience who screamed and cheered at the confession.
The setting was 'The Miley Cyrus Show,' the popular SNL show-within-the-show, with regular Vanessa Bayer doing her spot-on imitation of Miley, and Jason Sudeikis leading the house band as 'Billy Ray Cyrus.'
Article continues below advertisement
Justin played the president of Miley's fan club, and when Miley mentioned that Bieber would be her next guest, her biggest fan wasn't too happy.
"I heard he got busted for smoking weed, and he's really sorry and he's never going to do it again," says Bieber as the fan club prez.
Of course the real Miley Cyrus has had her own controversies about inhaling substances, and wasn't too interested in the apology. Besides, she had her own revelation about her marital state, and one that really upset her 'dad.'
But all's well at the end....and you can watch it here!