Justin Bieber Booed At Billboard Music Awards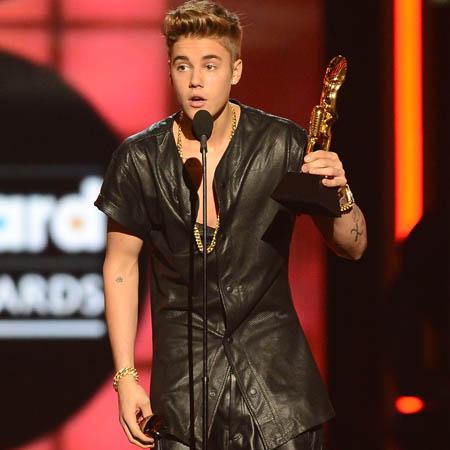 Justin Bieber learned the hard way that not everyone is a "Belieber" when he was loudly booed at the 2013 Billboard Music Awards Sunday night and RadarOnline.com has the video of his shocked response to the diss.
As the Baby singer took the stage to accept the New Milestone Award he was greeted with a round of boos that seemed to stun him.
Wearing all black and sunglasses to accept the fan-voted award, Justin made a short and snippy speech, hardly acknowledging the fans that voted to give him the award at the Las Vegas show.
Article continues below advertisement
"I'm 19 years old," Justin said. "I think I'm doing a pretty good job."
After his romantic weekend with his on-again off-again girlfriend Selena Gomez, Bieber seemed to be thrown off by the negative reaction from the crowd.
"From my heart I really want to say it should be about the music and about the craft I'm making," he continued, but sounded irritated by the booing.
"This is not a gimmick. I'm an artist, and I should be taken seriously. This other bull should not be spoken of."
Justin also thanked his family, Jesus Christ and finally thanked the fans and left the stage.
After the show he Tweeted to his 39.3 million followers a simple message: "Blessed."