'SNL' Goes 'Hunger Games' Crazy With Josh Hutcherson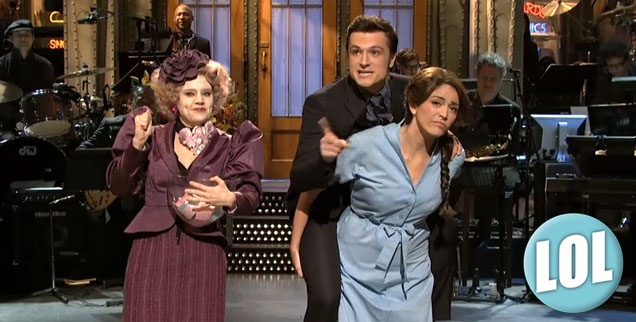 Josh Hutcherson brought The Hunger Games to Saturday Night Live and proved he may be the show's most adorable host ever!
The diminutive actor, who just turned 21, got right to the action in his opening monologue confessing that as his character, Peeta, is "the brave young hero who immediately gets hurt and has to be carried around for the rest of the movie."
With The Hunger Games: Catching Fire burning up at the box office this opening weekend, Hutcherson learned that the SNL cast is just as addicted to the movies as everyone else.
Article continues below advertisement
SNL regular Kate McKinnon took on Elizabeth Banks' character of Effie Trinket and as Katniss, Cecily Strong lived up to her name, carrying Hutcherson off "to the next sketch."
It's a sure bet this won't be Hutcherson's only shot at hosting SNL, and you can see why HERE: