Jon Gosselin: Marriage To Kate 'Was Ten Years Of A Business Transaction' And She Gave Him A 'Post-It Note' Task List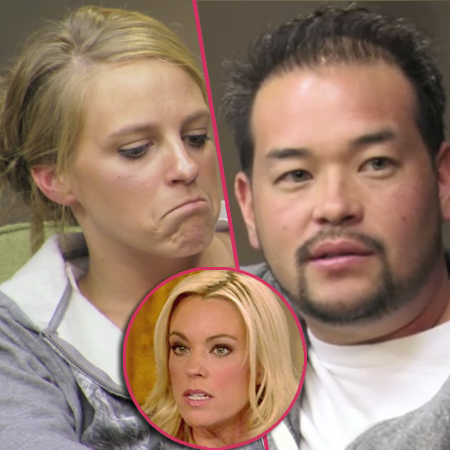 Jon Gosselin ripped his ex-wife Kate as a controlling monster -- again -- on VH1's Couples Therapy.
The disgraced dad, who has recently been on the warpath against his former spouse, didn't let up on the Thursday night reality show, on which Jon is trying to allegedly fix his new relationship with girlfriend Liz Jannetta.
And viewers also saw Liz appearing to be the new Kate, as she cruelly baited and belitted Jon when she believed he was masturbating behind her back.
Article continues below advertisement
During a group therapy session with host and TV therapist Dr. Jenn Berman, Jon revealed, "My marriage was very non-affectionate. It was just kind of like ten years of a business transaction."
The father of twins and sextuplets with Kate sighed, "So many kids, you're like, 'We don't have time to work on our marriage.' There was always an emptiness."
Jon even denied that he had wrecked the marriage by having an affair, implying it was broken in the first place!
And the Jon & Kate Plus 8 star, whose cheating was exposed in spring 2009, said, "The biggest misconception is the reason for the divorce is that I cheated on my wife. But I didn't. I mean, I knew my marriage was over January 17, 2009. That was the definitive day. I just knew.
"I always felt like I did Kate's task list. 'Here's the post-it note. This is what you have to do, this is how you're a good husband, this is how you're going to behave.' Okay, I thought, 'I'm going to complete these tasks and she'll love me because I do these things.' January 16 was when I did all my stuff. I went out to a bar and stayed out 'til 4 o'clock in the morning. When I came home that morning, she said nothing. So I did it the next night."
Article continues below advertisement
Jon got divorced from Kate in December 2009 and he told Dr. Berman that the old insecurity issues from the past haunt him now with his new galpal, Liz.
"When I met her, I already had a girlfriend," he admitted.
Jannetta said that bothered her and in the past six months before Couples Therapy, "We took a little break and within a couple weeks, he had someone else living with him."
Addressing Jon directly, she said, "You slept with a couple people and then you had someone move in with you."
She said she had lost a lot of trust in him. Jon pointed out to her she'd had sex with someone else while they were broken up, too.
Later, Jannetta said, "I question a lot. If he says he's on his way and he shows up an hour and a half later I'll ask him what he was doing. He immediately gets defensive."
Dr. Berman noted, "There's still part of you that's rebelling against Kate with Liz. 'I'm not going to be controlled again.' "
Article continues below advertisement
"That's why I'm here, I guess," Jon sighed.
But it looked like Jon had jumped out of the frying pan with Kate and into the fire with Liz as later, viewers saw Liz accuse Gosselin of masturbating!
Jon was lying in bed and when Jannetta walked into the room, she shouted, "You f***ing pussy!
"Your legs are wide open and your hands are down your pants: It's humiliating," she huffed on camera.
Gosselin protested, "I wasn't doing anything!"
He told the VH1 cameras, "I'm lying there scratching myself and Liz thinks I'm masturbating."
The outraged girlfriend fumed to him, "You are such a jerk."
She told the cameras about her boyfriend, "You want to 'get off'? You ask me!"
In the bedroom, Liz ranted to Jon, "I'm ready to throw up, actually."
Later, Gosselin said he was so disappointed that she didn't believe him that he clammed up.
But when he tried to discuss his feelings with Liz, she said, "Should I believe you? Why?
Article continues below advertisement
"It's embarrassing s**t for me. Dude, don't let me walk in on it!"
He said, "I wasn't doing anything. Swear to God! My pants were down because I was scratching my b*lls."
Jannetta started laughing at the wel-known TV dad.
Jon then said in a confessional segment, "I was hurt she didn't believe me, didn't want to be intimate with me, and then was making a joke about it.
"When Liz laughs at me, I feel devalued as a human being because my word and my voice doesn't matter, like a child," he said.
For her part, Liz laughed to the camera, "Please don't play the victim all the time. Man, say something, you f***ing p****!"
As the episode ended, Jon told viewers, "That reminds me of my marriage. When Liz laughs at me and walks away, that's like Kate. That's exactly how I feel."
Also on Thursday night's show, Teen Mom-turned-porn star Farrah Abraham was made an object of ridicule in the Couples Therapy house when the others, including former The Real Housewives of Beverly Hills star Taylor Armstrong and The Real L Word couple, Whitney Mixter and Sara Bettencourt, didn't believe her porn movie was a personal leaked sex tape.
Article continues below advertisement
Bettencourt confronted Farrah, saying she saw Backdoor Teen Mom and pointing out, "There is actually a camera crew filming."
"No, there is not!" Abraham said, sticking to her usual story.
Later, Gosselin said to another houseguest that Farrah should own up to the fact that she shot a porn movie for money.
And Janetta said her waffling about the tape was affecting her relationship with everyone in the house.
According to Gosselin, Farrah wanted to "change her 'brand' but now it's blowing back up in her face."
During a one-on-one therapy session with Dr. Berman, Farrah said she felt like everyone in the house thought she was a b****. But Dr. Berman got to the bottom of it, realizing she was internalizing the voices of her parents who always criticized her.
Watch the video on RadarOnline.com
"My mom and my dad have called me a whore for no reason, even when I was dating the first person I ever had sex with," Abraham cried.
She said she never got validation from her mother in particular.
"I don't know what love is, honestly. My parents are always talking to me to get money from me, use me in some way ... they're nagging, they're bulls****ing."
Dr. Berman said her parents would have to be brought into the Couples Therapy house to discuss the situation and Abraham agreed!