Jodi Arias In Prison Stripes And Shackled Up For Court Appearance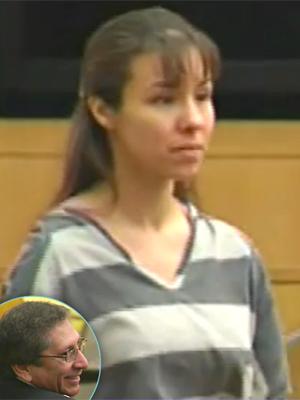 It's Jodi Arias as you've never seen her.
The convicted murderer appeared in an Arizona courthouse on Thursday robed in full prison stripes with shackles, flanked by six special response officers — and RadarOnline.com has the video footage.
Arias, 32, made her first appearance in the courtroom since the jury was unable to come to a decision during the penalty phase of her sentencing last month.
The courtroom fell silent when Arias walked in and AZCentral.com reports her appearance was "unlike anything we'd seen before."
Article continues below advertisement
Prosecutor Juan Martinez was caught smiling on camera as Arias walked through the courtroom.
The judge held a long, closed-door hearing and the only decision made was that a July re-try on the penalty phase was postponed.
Some of the jurors on the original team of 12 who couldn't come to an agreement on whether or not Arias should receive the death penalty for killing her ex-lover, Travis Alexander, were in the courtroom Thursday.
"It was a lot different," juror #6, Diane Schwartz, told reporters outside the courthouse. "And it was the reality of her conviction…I think that that was a resonating experience for all of us."
"It was like, we knew that we had done our job on the conviction," she continued. "Now we just have to wait and see what happens in the penalty phase."
Arias' mother told AZCentral.com that she hasn't been able to leave her house much since her daughter's conviction and said, "Life has been difficult."
Both sides are scheduled to meet again in the Arizona courtroom on July 18 to discuss a new trial date.
radar_embed service=brightcove src="http://c.brightcove.com/services/viewer/federated_f9?isVid=1&isUI=1" width="480" height="270" fv="omnitureAccountID=gpaper158&pageContentCategory=videonetwork&pageContentSubcategory=videonetwork&marketName=Phoenix&revSciSeg=&revSciZip=null&revSciAge=null&revSciGender=null&division=Newspaper&SSTSCode=gci-az-phoenix.com/video/news_Video_prestream&videoId=2495195658001&playerID=1659202266001&playerKey=AQ~~,AAAABvZFMzE~,IXjx0MpOF0p74gQ0oxWK0L1cZBcoHPoi&domain=embed&dynamicStreaming=true"