Jodi Arias Sentencing Phase: Mistrial With Hung Jury!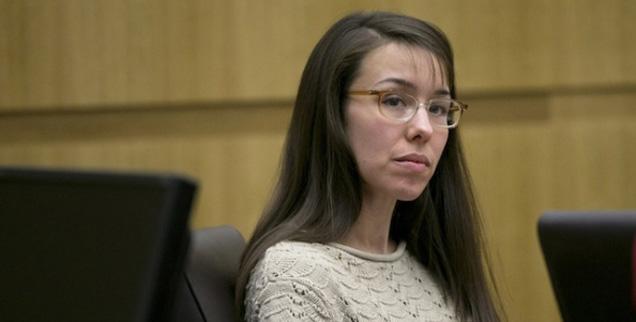 The jury could not come to a unanimous verdict in the Jodi Arias sentencing phase for the brutal murder of her ex-lover Travis Alexander, and announced on Thursday afternoon their inability to come to an agreement, resulting in a mistrial.
The mistrial means that while Arias' first-degree murder conviction will stand, the state could decide to bring in a new jury and re-try the penalty phase. If the state chooses to go in that direction, the new proceedings will start July 18.
Article continues below advertisement
Arias appeared emotional as the verdict was read and the jurors were also emotional, some of them crying. One even mouthed the words, "I'm sorry, I'm so sorry" to Alexander's family who was anxiously awaiting closure in the courtroom.
Alexander's family could not hold back their disappointment and devastation, sobbing in the Arizona courthouse.
"We appreciate the jury's work in the guilt and aggravation phases of the trial and now we will assess, based upon available information, what the next steps will be. As of this point in time, the court has set a status conference for June 20 and we will proceed with the intent to retry the penalty phase," Maricopa County Attorney Bill Montgomery said in a written statement.
"Because, for purposes of a jury determination on punishment, this is still a pending matter, there will be no further comment."
The prosecutor's office has not yet decided whether they will retry in the penalty phase or not.
If they choose to, the new penalty phase trial date is set for July 18, but if they choose not to retry Arias would simply be given life in prison.
If the penalty phase is retried and a new jury still cannot come to a unanimous decision in the penalty phase, Arias' fate will be left in the hands of the judge who will either sentence her to life in prison with the possibility of parole, or life in prison with no option for parole.
radar_embed service=brightcove src="http://c.brightcove.com/services/viewer/federated_f9?isVid=1&isUI=1" width="480" height="270" fv="omnitureAccountID=gpaper158&pageContentCategory=videonetwork&pageContentSubcategory=videonetwork&marketName=Phoenix&revSciSeg=J06575_10805|J06575_50507|J06575_50558|J06575_50709|J06575_50763|J06575_50778|J06575_50735|J06575_0&revSciZip=null&revSciAge=null&revSciGender=null&division=Newspaper&SSTSCode=gci-az-phoenix.com/video/news_Video_prestream&videoId=2405319441001&playerID=1659202266001&playerKey=AQ~~,AAAABvZFMzE~,IXjx0MpOF0p74gQ0oxWK0L1cZBcoHPoi&domain=embed&dynamicStreaming=true"