Jodi Arias Jury Quizzes Defense Psychologist On PTSD, He Claims It's Not A 'Get Out Of Jail Free Diagnosis'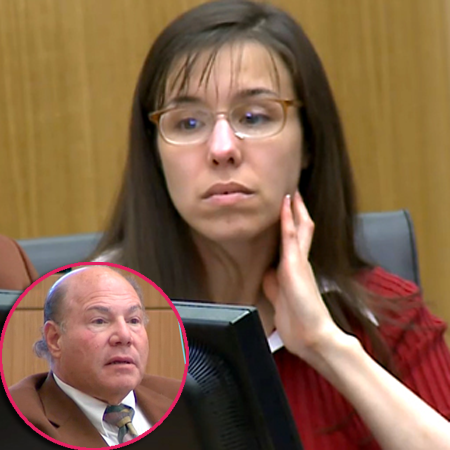 Testimony in the bombshell Jodi death row murder trial was being guided on Thursday by the 12 men and women who will decide her fate.
After being ripped apart by the prosecuting attorney Juan Martinez, the defense's key witness psychologist Dr. Richard Samuels faced 100 questions from the jury - Arizona is one of the few states in the U.S. that allows jurors to submit questions for witnesses.
Once testimony got into full swing, Dr. Samuels was asked by a member of the jury if"in fight or flight, does the body choose between them?" He said the tendency was most commonly to flee, but if that isn't possible then the mind moves on to fight, as Arias allegedly did when she stabbed Travis Alexander 29 times, slit his throat and shot him on June 4, 2008.
Article continues below advertisement
When asked if there is "100 percent consensus in the memory loss theory?" Samuels replied vaguely, "Psychology is not that precise."
Much of the debate earlier in the week had related to accuracy of the psychologist and sex therapist's opinion as bulldog lawyer Martinez repeatedly discredited him especially following the revelation that Jodi had initially told him a bogus story about an intruder attack.
"Can Samuels be sure Arias is not lying to him?" came the inevitable question, to which he said basic aspects of her story are consistent and there is a strong probability she is now truthful.
Even after diligently sitting through more than two months of the trial, the jury is still clearly paying great attention to detail by asking respectful and insightful questions, according to Arizona Republic reporter Michael Kiefer from inside the courtroom.
Article continues below advertisement
"It is important to note that the diagnosis of Post Traumatic Stress Disorder is not a 'get out of jail free' diagnosis, it is simply a statement that describes her emotional state at the time the evaluation occurred," explained the psychologist, looking far less flustered then when being grilled by Martinez, as he compared Jodi's memory loss to the impact of a huge meteor creating a crater.
However, as the day progressed the questions became edgier and it was clear that some members of the jury were trying to catch Samuels out in a blunder and even went as far to quiz him about his fond relationship with his infamous client.